Friday, Sept. 1
Football vs. Elmwood Park – 35-0 Win
Broncos football got off to a strong start last Friday with a 35-0 thrashing of Elmwood Park. Senior running back Jordan Morrell was the star, scoring twice, senior running back Cuddy Zhu found the endzone once, and late in the game sophomore running back Carson Boffa punched it into the endzone for the last score. On the defensive front, it was a masterful performance highlighted by a pick six from Jake Bugni halfway through the first quarter to have the Broncos shutout Elmwood Park.
Tuesday, Sept. 5
Girls Tennis vs. Ramsey – 5-0 Win
Pascack Hills won all of its matches on Tuesday. Sophomore Kanishka Prasanna and senior Ava Patelsky defeated Anika Mukherjee and Olivia Fishman in the singles matches. In the doubles matches, twin sisters Rachael and Stephanie Yeung defeated Hadley Saxon and Kallin Dowd, and Olivia Ge and Marli Golden defeated Ace Borzenko and Lily McGuire.
Thursday, Sept. 7 
Girls Soccer at Cliffside Park – 6-1 Win
Girls soccer got off to a great start as well on Thursday. Despite a lightning delay, Hills held strong and got the win. Sophomores Emily Rennie and Sophie Pinkwater got the scoring started, with Rennie scoring the sixth and final goal in the second half. Junior Abbey Roche scored twice in a row and freshman Kate Glass finished the scoring in this big win. Boys soccer was meant to play their home opener on Thursday, but lightning ultimately caused a cancellation.
Friday, Sept. 8
Football vs. Teaneck – 23-22 Win
Possibly one of the most exciting football games ever witnessed at Pascack Hills, the Broncos scored a huge 23-22 win over Teaneck on Friday. 
Hills got off to a great start, holding the Highwaymen to zero at halftime and scoring 20 points of their own. Junior quarterback Connor Ohnikian started the scoring with a seven-yard touchdown to junior receiver Michael Weaver. Ohnikian would throw to another junior, Jake Polsky, to put the Broncos up 14-0. 
Junior kicker Calen Aherne booted the first two field goals of the night – a 37 and 30-yard kick, respectively – straight through the uprights to put Pascack Hills up 20-0 at the half. 
Teaneck came out of the halftime break swinging, with a touchdown run for quarterback Vance Mixon, plus a two-point-conversion from Deyton Walcott putting them down by 12. With the Broncos unable to respond, Teaneck's Adriel Perez scored his first touchdown and a two-point conversion to make it 20-16. 
Then, about halfway through the fourth quarter, Mixon takes the ball on a QB run, he finds a hole in the middle, and just as it looks like he is downed, the ball comes loose and Teaneck recovers in the endzone to go up 22-20. Crucially, the following two-point conversion was missed. 
A big drive from the Broncos late in the fourth quarter chewed the clock and set up Hills kicker Calen Aherne for a 43-yard field goal in a pressuring scenario, but Aherne had no problem with it. The Broncos took a 23-22 lead, and two big stops on defense would help them keep it and get a big win over a division rival.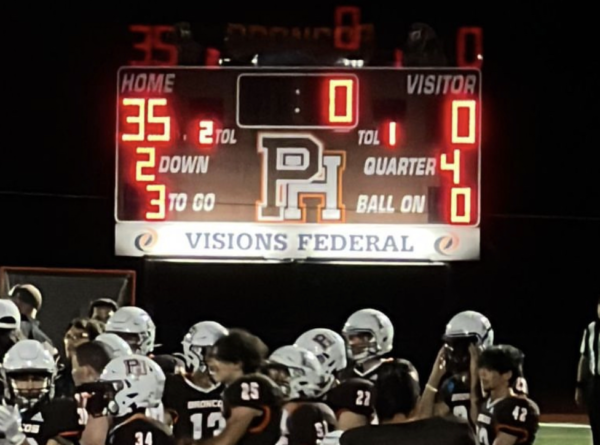 Saturday, Sept. 9
Boys Soccer at Ramsey – 2-0 Loss
Boys soccer was unable to score against Ramsey in their opener last Saturday. Ramsey took 10 shots on goal and scored two, one in the first half and one in the second.
Monday, Sept. 11
Volleyball vs. Ramsey – 2-0 Win
Pascack Hills volleyball got off to a great start on Monday with a two-set win against Ramsey. The Broncos won the first set 25-22 and the second set 25-17. Junior Gianna Juliano led the kill category in the win.
Gymnastics vs. Indian Hills and Passaic Valley – Win
Junior Kiera Jennings and freshman Hope Gasperino led the vault and beam categories as Pascack Hills scored a 95.55 in a win over both Indian Hills and Passaic Valley.
Tuesday, Sept. 12
Girls Tennis at Ramapo – 5-0 Loss
Girls tennis lost all of their matches against Ramapo on Tuesday. Senior Ava Patelsky had the best singles performance, winning three games over her opponent. In the doubles matches, seniors Olivia Ge and Samantha Lazar won two games but ultimately lost to Arielle Gomberg and Olivia Ring of Ramapo.
Boys Soccer at Mahwah – 2-1 Loss
Boys soccer lost their second straight game against Mahwah, but they were able to get on the board. Junior Brogan Rossi scored the first goal of the season for the Broncos, but ultimately it was not enough to win against the Thunderbirds.
Girls Soccer vs. Mahwah – 1-1 Draw
Hills and Mahwah played to a draw on Tuesday. Senior Abbey Roche, who has just committed to Stony Brook to play soccer in college, scored on a penalty to start off. Mahwah's Emily Edge answered back with just 50 seconds to go on a long free kick that found its way into the net. There were no scores in the two overtime periods, meaning that the game would end in a 1-1 tie.
Wednesday, Sept. 13
Girls Tennis vs. Mahwah – 3-2 Win
Girls tennis got a hard-fought win on Wednesday to go up to 2-1 overall. Seniors Ava Patelsky and Jillian Fleishman scored wins in their singles matches, and Samantha Lazar and Olivia Ge got the win in a doubles match to give Hills a 3-2 win.
Volleyball vs. Mahwah – 2-0 Win
Volleyball stayed undefeated in their second match on Wednesday with two 25-12 and 25-18 set wins over 1-3 Mahwah. It was a wonderful performance from the Broncos, with senior Mikka Jarvis leading the assists category for the second straight match.
Thursday, Sept. 14
Volleyball vs. Lakeland – 2-0 Win
Volleyball scored their third straight 2-0 win in their first away match on Thursday. A 25-17 first-set victory, a 25-9 second-set victory, and eight kills from sophomore Eva Meyers put the Broncos at 3-0 overall.
Girls Soccer at Pascack Valley – 1-0 Loss
Girls soccer lost to Pascack Valley on Thursday. This puts them at a 1-1-1 record. Valley's Allie Polyniak scored in the first half to win 1-0 and stay undefeated.
Boys Soccer at Pascack Valley – 3-1 Loss
Boys soccer drops to 0-3 with Thursday's loss to Pascack Valley. Junior Joe Pietrunti scored late in the game but could not answer the two goals scored by Valley's Steven Gifford and the one goal from Adrian Cano.
Football at Fair Lawn – 21-7 Loss
Broncos football took their first loss on Thursday night in their first away game against the Cutters. Jordan Morrell rocketed for a 28-yard touchdown run early in the first quarter to put Hills up 7-0. But a 90-yard kickoff return from Fair Lawn would set the scene for a 21-7 loss that puts Pascack Hills down to 2-1 on the year. Football is away again next Friday night against Indian Hills.