The Remedy for Spring Fever: New Fashion Trends
Don't be fooled by the recent 30 degrees Fahrenheit temperatures; spring is in full swing and so are the latest trends. It's out with the old and in with the new—or in this case, out with the boots and in with the sandals. The world of fashion has pinpointed staple pieces that every teen girl should have in their closet this spring.
Thankfully for the students of Pascack Hills, these styles are 100 percent beach AND school appropriate, so there is no need to worry about breaking the "beach" dress code. Here are four of the many spring fads that will leave you wondering how future trends could be any better than they are right now.
Don't be Blue
It is looked at as the favorite color of millions around the world, and this spring, the color blue is making its mark in fashion. Harper's Bazaar said, "The right color blue hits all the right notes you need in the summer." We may be getting ahead of ourselves when yearning for summer trends, however the color blue can be incorporated into any casual springtime outfit. Whether it is a cropped pair of blue jeans, a pale blue shoe to add a pop of color, or vibrant blue accent jewelry, you can't go wrong with a color everyone loves.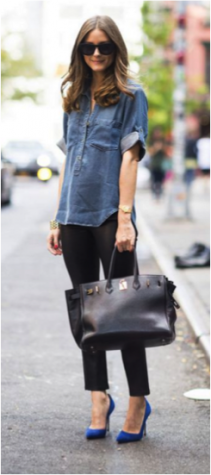 RADiant Festival Vibes
Music festivals, especially Coachella, have been inspiration for runway and street styles this spring. People go all out for these events, dressing in their best bohemian attire, resulting in free spirited outfits that are painless to recreate for your very own #OOTD. Off the shoulder peasant tops, suede floppy hats, and either breezy maxi skirts or bell-bottomed pants will be the real stars of these music festivals. These "boho" items can be found at local stores like Free People and American Eagle and are mostly made of light and airy materials best formulated for the warmer seasons.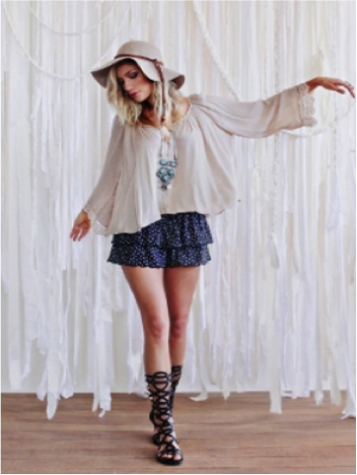 Rock the Romper
Rompers have changed fashion for many since their creation, and are the most convenient trend to date—especially for spring. For those who are unaware, a romper consists of a top and bottom connected. Sophomore Caitlin McQuade said, "Rompers are my go-to. I never have to worry about coordinating a shirt and shorts/pants. I can just grab one piece of clothing and head out the door." Rompers are perfect for those days where it is too hot to concentrate, let alone pick out an outfit.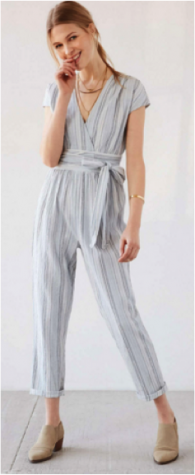 That's so '90s
The '90s are back! Although most of us here at PHHS are too young to fully appreciate one of the most fashionable decades in history, we can have another chance as '90s fads are totally in. Among it all, choker necklaces, overalls, high wasted jeans, and flannel tops of the grunge 1990s will be sported often this season. These styles are so not 16 years ago.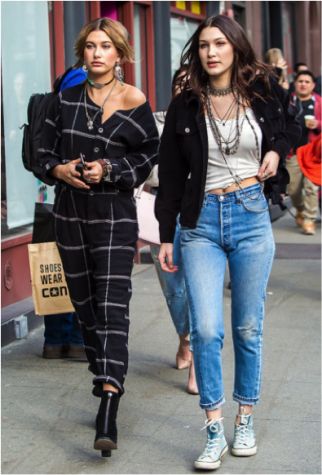 Pascack Hills will be up to date with these springtime styles in tact. Expect there to be a lot of blue ensembles, boho-esque fashions, rompers, and '90s obsessions invading classrooms as the weather turns to the toasty temperatures we have been waiting for all year.
Leave a Comment