Get That Beach Body Ready: Fitness Routine
With spring, summer, and general warm weather right around the corner, many teens want that improved beach body for their next summer vacation. Getting in shape for the summer takes a lot of time and commitment, but it will all be worth it when you can enjoy those cold ice creams on the beach. Here are my top five steps to become in shape the healthy way.
Make A Music Playlist
Although it may sound cheesy, music is a great way to get pumped up for your workout. With no beat or sound to do your routine with, you won't get to fully enjoy the moment. Some great songs to add to this playlist are:
"My House" by Flo Rida
"Stronger" by Kanye West
"Me, Myself & I" by G-Eazy
"I Like Tuh" by Carnage
Make A Commitment To A Routine
By picking a workout routine you can stick to, you'll know that you can do it. Make one that revolves around your lifestyle, not the other way around. If you do a spring sport, maybe hit up conditioning so you'll do less at home. If you come home and usually take nap, try to jog for the time you sleep. Whatever you chose, make sure your goal is attainable.
Make A Group Of Workout Buddies
Having a group of friends to get in shape is a top role in working to meet your goal. As a player on our school JV softball team, I know that my teammates and friends are a big reason that I stay motivated throughout tough practices. Plus, it's so much better to be able to gossip with someone while doing your workouts!
Watch Your Portions
Being healthy matters about the outside of your body and your inside. If you exercise but don't watch what you eat, you won't see the results. An easy way to do this is to cut down on the junk and add up on the fruits and vegetables. You don't really need those fries at school; get some freshly cut strawberries instead! You'll be looking better and feeling better in no time!
Change Your Old Habits
Habits are hard to break, but they can be broken.
Every body is different and beautiful so all of these tips may not work for you. Don't feel the need to change for a person or for society in general. Make sure you're becoming healthier because YOU want to see the results. Having a healthy body is just as important as having a healthy soul. Don't feel bad if you break your routine now and then; just know that you're doing your best. Otherwise, work hard and don't forget leg day, your calves will thank you. Have a blast at the beach!
Leave a Comment
More from the contributor(s):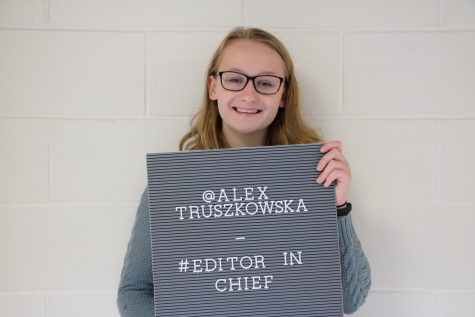 Alexandra Truszkowska, Editor in Chief
Alex is a senior and this is her fourth and final year on The Trailblazer. She was the Arts & Entertainment editor junior year and became Editor in Chief senior year. She is so excited for her last year, teaching the underclassmen, and making this the best year yet!