Dessert Recipes for a Cozy Season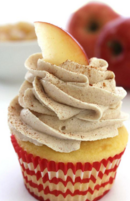 'Tis the season for cozy afternoons filled with watching the leaves turn shades of warm tones, and having fun in the snow with your friends and family.  With delicious treats such as apples, pumpkins, and other harvests, it is the perfect time to experiment with various recipes and bake desserts that you can share this season.
Apple Pie Cupcakes
Biting into a dessert that embodies the essence of this season can bring so much warmth and comfort.  Brimming with homemade apple filling at its core and decorated on top with a cinnamon butter frosting, this simple cupcake will bring you back memories.  This cupcake is a perfect balance of tart and sweet, and it will satisfy those with a sweet tooth.  With the best of both worlds, this cupcake will allow you to enjoy the flavors of a real apple pie without going through the trouble of baking the complex dessert.
Sophomore Britney Gayed said, "This sounds like an awesome recipe; it definitely deserves more hype than all the pumpkin spice desserts around this time of year!"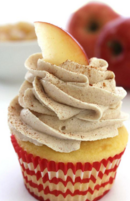 Picture from cincyshopper.com
Click here to get started: http://www.foodnetwork.com/recipes/food-network-kitchens/apple-pie-cupcakes.html
Pumpkin Brownies
This dessert will give the classic chocolate brownie a twist by adding a dash of pumpkin.  A quick and simple recipe, it would be an inventive treat for any event or celebration. In addition, this brownie is a healthier alternative than chocolate or blondie brownies.
"Being that I am very health conscious, I love making these brownies, because while eating them, I don't feel as though I'm being completely unhealthy," stated a Pascack Hills senior.
The amount of pumpkin that you put in can vary, depending on personal preference.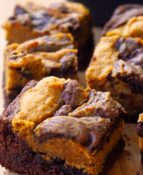 Picture from babble.com
Click here to get started:
https://www.verybestbaking.com/recipes/473/pumpkin-chocolate-brownies/
Maple Butter Cookies
Local aspiring baker, Rebecca Litvinsky, mentioned how maple butter cookies are a delight during this cozy season.
Litvinsky said, "The moment you take them out of the oven, it filled my whole kitchen with the smell of maple syrup," Rebecca stated.  "These cookies don't take a lot of time to make, but they sure taste a lot better than store-bought cookies!"
With the main ingredient being maple syrup, this dessert is a refreshing option than a chocolate chip or sugar cookie.
Litvinsky said, "When you bite into them, the cookie melts like butter…"
Picture from happinessishomemade.net
Click here to get started: http://www.epicurious.com/recipes/food/views/maple-leaf-butter-cookies-10106
Leave a Comment