Spring Fashion Trends 2017
As a sophomore in a public high school, where uniforms are not enforced, I, among all young teens, are able to express their style and who they are, through their outfit. As spring has just begun, all of the spring tends are becoming relevant!
For women today, there are many new trends that began this year, and are continuing through the spring. Also, most of these trends you could create yourself!
Cut Outs
No matter where the cut outs are on clothing, it adds a another special touch to the garment. As they also may be controversial, especially with school dress code, many cut outs may have underlays. Whether it is filled in with mesh (also a big trend right now) or even lace, it will pop and make your outfit even trendier. Along with the cut out trend, choker shirts are becoming hot.
These are shirts that have chokers attached (mainly in the same shirt material), and this look can be achieved with cut outs.
Sophomore Ilyssa Siegel said, "I love how the chokers are attached, so separate jewelry is not needed, while you still have the same effect of wearing jewelry!"
One brand that focuses their clothing on cutouts is LNA. This is a very well-known brand among teens.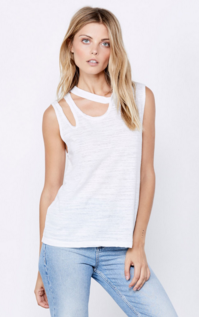 Lace-Up & Ladder
As this trend has been relevant for a while, you can now find almost everything as lace-up. From a basic t-shirt to even shorts and leggings, this is a hot trend that will still be present this spring. This style is even easy to create yourself, by making small, spaced out holes, and running a shoelace through.
A well-known store among teens is Forever 21, and they have many lace-up items. Similar to the lace-up trend is the ladder trend. These shirts can be known as "Ladder Tees", and are starting to become very popular. They can be on college shirts, or really any type of shirts.
Freshman Jacqui Zariello said, "I love these shirts because they make an ordinary shirt special with the ladder effect."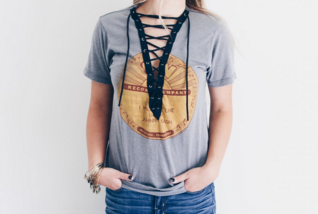 Bodysuits
Bodysuits are a new trend that is becoming increasingly popular. They are perfect for the spring because they are both long and short sleeve, and you can wear them with skirts, shorts, and jeans.
You can dress them up, or allow them to be casual, so they are flexible for every occasions. Tobi.com, another place for teens to shop online, has many bodysuits.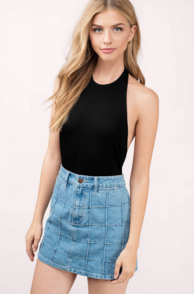 Hot Designs, Fabric, and Color
Embroidery is making a comeback! You can now find many different styles of clothing embroidered with different designs, such as flowers. Floral embroidery is very popular this spring. A trendy fabric this time of year is velvet. You can find velvet clothing ranging from nice tops to body suits to dresses.
This spring, the saying 'Blush is the new neutral,' will be relevant. If you're going for a plain, simple look, wear the color blush. Blush is a light pink color that complements all skin tones.
Fashion Design teacher, Mrs. Wagner said, "My fashion design class is going to be right in style this spring with the off-the shoulder shirts they are making. Some are making these shirts with light-weight velvet and others with blush-colored silks."