Fall Fashion Fads of 2017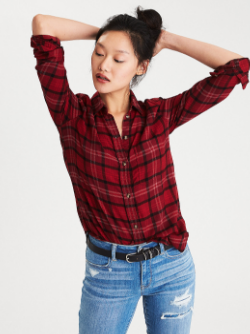 With fall just around the corner, many Pascack Hills' teens are excited about the cozy sweaters and plaid flannels that come with the season. Students all around the school can be seen wearing the new autumn styles.
Bodysuits
Whilst still being very comfortable, bodysuits give a dressy illusion, which may be why so many students can be seen wearing them. Many love how easily the one pieces can be styled.
Jade Quesada, a junior at Hills, says, "Bodysuits make you look good in pictures and give the illusion of a smaller figure. They also make for a good outfit if you are looking for something cute and easy to wear."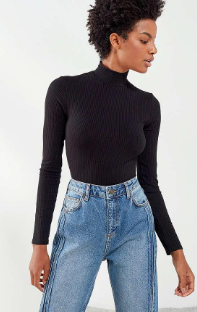 Camouflage
Don't be fooled, this new camouflage trend makes stylish students stand out, not blend in.
Steph Rossi, senior at Hills, states, "I am a huge fan of the camo trend because I love how simple, yet stylish the simple green pattern is."
The common camouflage pattern can be easily spotted throughout the school on students' pants, shirts, and jackets.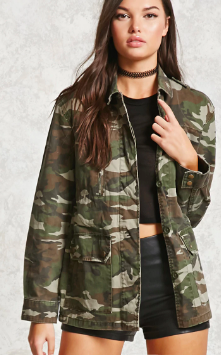 Flannels
The same as in years passed, flannels are a must-have for fall fashion lovers. The casual look and feel of the flannel tops draw people in.
Avery Paulen, a Pascack Hills sophomore, shares that, "Flannels are a fall essential for me. They're not only warm, but make a bold fashion statement as well."
As the weather becomes colder, you can be sure to see more students wearing flannels, not just for how warm they are, but for how stylish they are too.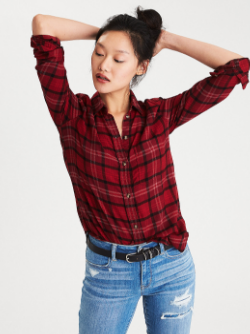 Ripped Shirts
For teens, ripping their jeans is no longer enough. Many students can be seen around Pascack Hills sporting torn sweaters and t-shirts.
Sophomore student Amanda Kern says, "I think ripped shirts are in style now and it's for sure the new trend for 2017. I like how casual and simultaneously trendy they are."
Many refer to fall as "the sweater season" and this fresh change to how we wear sweaters is, and has already proven to be, a huge trend amongst students.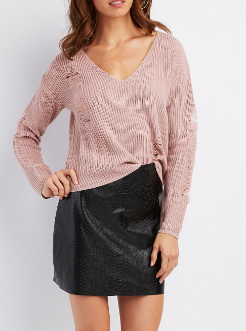 Hills Pride
While orange and brown plagues our school all year, they are even more prevalent in fall. Orange and brown, commonly known as fall colors, can be seen all throughout Hills during autumn.
Sophomore Jenny Culvert says, "During fall, I like how our school colors can be seen everywhere, from people's clothes to the leaves on the trees."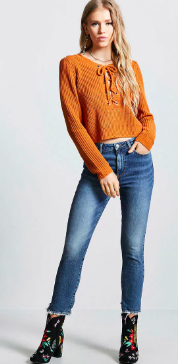 Keep an eye out for students sporting all the new fall trends, from bodysuits to camouflage, you will be sure to see them all.
Leave a Comment