2018 Promposals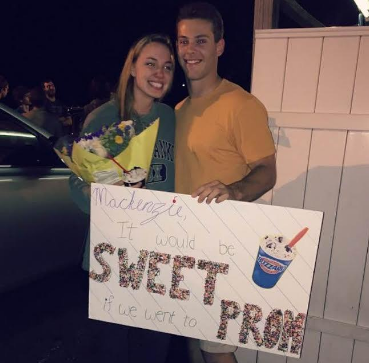 Jenna Chiavelli
January 31, 2018
The holiday season marks the beginning of prom madness. Which means, your instagram feed is about to be flooded with promposals. Promposals are the elaborate ways teenagers ask their dates to prom; and although students are consumed with planning a date and deciding which dress looks best, the most anticipated element of prom is the proposal. Despite the fact that prom is months away (Pascack Hills' Junior Prom is March 16th and Senior Prom is June 8th), the buildup to the event of the school year is an exhausting process.
Over the past few years promposals have become more and more popular. In fact, many students feel pressured to have an impressive proposal. Junior Ben DiPiazza states, "I've seen some over the top promposals, so it does add a lot of stress to the whole idea of prom. No one wants to let down their date." So to alleviate the stress, Dipiazza and a lot of other students feel, here is a list of 10 promposal ideas that are sure to please.
ANYTHING RELATING TO FOOD. If you're struggling with ideas, incorporate your date's favorite food into the promposal. For example, Pascack Hills alumni, Tyler Messenger asked his girlfriend to prom with her favorite flavor of ice cream. He wrote on his poster, "Kenzie, it would be sweet if we went to prom". And how could anyone say no to ice cream?
FAVORITE TV SHOW.  If you know your date is obsessed with a certain TV show, create a promposal based on that. Does your date loves Stranger Things? Recreate the lights Joyce Byers hangs up in order to communicate with her son and spell out the word "Prom" under the lights.
FAVORITE MOVIE. Since Pascack Hills alumni, Jake Chiavelli, and his date, Hannah Hoffman, both love the Batman franchise Jake asked Hannah to prom with a Batman themed promposal. He even took it a step further by dressing up as Batman. Something as little as dressing up for the part can make your promposal even more memorable.
FAVORITE SPORT.  If your date is involved with a Pascack Hills sports team, design a promposals based off of their favorite sport. For example, if you plan on asking a baseball/softball player to prom you can create a base from posterboard and caption the poster with "Can I steal you for prom?".
FAVORITE SONG. Song lyrics are a perfect way to ask a date to prom, especially if the song has a significant meaning.
FAVORITE ANIMAL. Ask your date to prom by handing him or her a stuffed animal and a poster with a punny caption. Such as a poster labeled "Prom would be un

bear

able without you" and a giant teddy bear following the poster. To make the proposal even more special, you could include your date's pets. For example, make a dog tag that says prom on it and attach it to the collar of your date's dog.
FAVORITE PLACE. Taking your date to their favorite place is always a good idea. If your date loves hiking, take them to Ramapo Reservation and create a natured-filled promposal.
DECORATE THEIR ROOM. Decorating your date's room with balloons, posters, and streamers is sure to impress. Remember, the bigger the better.
HOLIDAY THEMED. Take advantage of the holiday season and create a seasonal promposal. Dress up as Santa and create a festive poster. You could even base your poster of Mariah Carey's hit Christmas single "All I Want for Christmas is You".
BIRTHDAY THEMED. Is your date's birthday before prom? If so, you're in luck. Celebrate your date's birthday with a promposal.
COLLEGE COMMITMENT. If you're a senior, college is certainly on your mind so channel this excitement into a promposal. Incorporate your date's future school and design a school-spirited poster.