New Jersey? More Like Food Jersey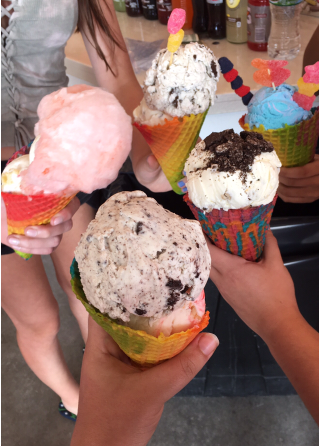 New Jersey has a reputation for being the state of self tanning, not pumping gas, and all the fist pumping down in Seaside Heights. When people think of Jersey they think of bad french tips, old ugg boots, and flipping the table with the housewives. However, New Jersey is more than that- it's food central.
Taylor Ham
The heaven that is Taylor Ham is a "pork-based processed meat originating and commonly available in New Jersey." This beautiful meat adds the heavenly taste of pork that bacon cannot reach. But, please don't call this perfectly salted pork breakfast side "Pork Roll." Without this pac-man looking breakfast meat, no New Jersian can ask for their all time favorite taylor ham, egg, and cheese, salt ketchup, pepper, on a round roll.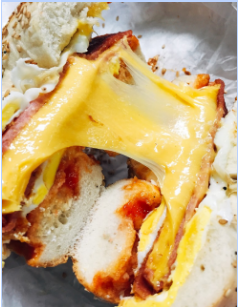 Italian Food Galore
No matter the town, an everyday New Jersian will know where the best local Italian food is. Whether  you are getting Chicken Parm or Spaghetti with Meatball, the meal will be unforgettable. Yes, there are some places with a microwaved Stovetop version, but the majority will have some of the best dishes created by non-italian. And, yes, that is a Russian man is bringing all your beloved Italian meals to the table.
Here in Montvale, we can find our favorites in some strange locations. Next to CVS is the older crowd spot of Bellissimo, while one can eat at Andiamo's in Haworth, NJ. Both will allow for a meal that one won't forget, and one that will be asked for until the next visit.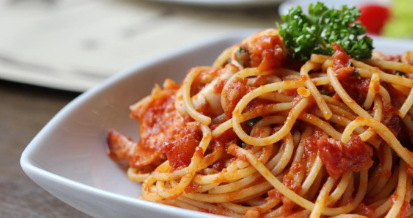 Dunkin Donuts
Walking into first period without seeing at least two people with a Dunkin Donuts cup means you have never experienced a Jersey classroom. The basic French Vanilla or Hazelnut coffee light and sweet with cream, can bring joy to about 80% of the state's residents. And, although we are missing out of the hot glaze of Krispy Kreme, we all indulge in on a perfect glazed donut with a Boston Creme to follow.
Sophomore Rachel Newman said, "French vanilla coffee is the way to everyone's heart. It tastes amazing no matter hot or iced, and is even better with a glazed donut on top. But, once you leave Jersey there's just a difference in the taste. Even just from the Park Ridge one to the Pearl River one, you can taste the difference."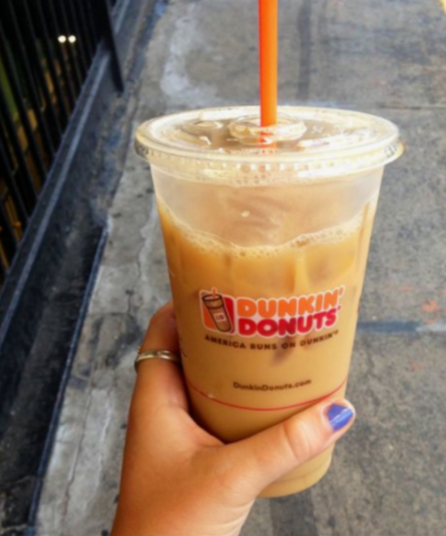 Diner Food
Let's be honest, we all hate the diner. But, there is something about the greasy waffles with eggs and the chocolate egg creams that the slightly angry Greek man brings to your table that draws every single dinner-goer back. New Jersey has the best, worst diner food in the world. Whether it looks like The Ridge Diner or a classic, Riverdale-isc, neon sign diner, the food will never disappoint the heart.
Sophomore Hallie Wikfors said, "Have you ever eaten diner food at the diner and it tasted so good, but brought it home and it tasted so bad? This is the struggle that every person in Jersey undergoes."
The Jersey Shore
With locations, such as Playa Bowls, Surf Taco, and Coney Waffle, originating at the one and only Jersey Shore, good food is easy to come by down at the beach. Whether you are craving a beautiful lobster roll, acai bowls, BBQ food, or even two scoops of cookie dough ice cream in a waffle cone, the Jersey Shore will have a location (or many locations) with the perfect munch. And, even better, to start the day at LBI, one can stroll down to Chicken or the Egg, more commonly known as Chegg, and experience the most decadent meal of their life.
Sophomore Jolie Newman said, "Jersey Shore food is incredible! In Long Branch, there is an amazing ice cream place called Coney Waffle, which is better than the trip to the beach itself. It has amazing, unique flavors, toppings, and even an awesome multi-colored cone that I have never seen anywhere else. That place is iconic, and it's located in yours truly, New Jersey."