New in Beauty: What's All the Hype?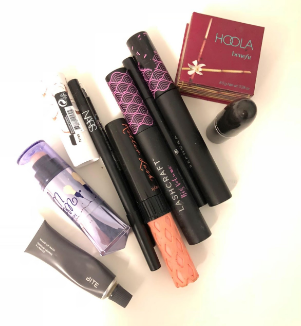 Beauty products are a must have for some, and for others, it is there for fun and to do in one's free time. However, whichever person you may be, it is always a good time to experiment with the popular, new products that everybody loves.
Anastasia Sugar Glow Kit
This highlighter pack contains four different shades that all give off the perfect amount of shine and intense glow. This glow kit contains the four different shades marshmallow, gumdrop, butterscotch, and starburst. Marshmallow is a simple white-based highlighter with a great amount of shine. Although the box of the kit makes it seem to be very basic, the highlighters inside are very capturing. Gumdrop is a warm, somewhat dark champagne color that has a beautiful sparkle to it. Next is butterscotch which is a lighter, yet pigmented, gold color that captures the eye as soon as one looks at the pallet. Lastly is starburst which is a light pink color with a younger feel to it. Each color is very different, yet all are perfect for a highlighter palette. The amazing glow from the four different colors makes it perfect for anybody, and everybody who buys the kit. The Anastasia sugar glow kit is $40. You can buy this kit at a local Sephora, Macy's, or even on amazon.com.
Onomie Boosting Lip and Cheek Stick
Onomie Boosting Lip and Cheek Sick is a handy, on the go beauty product that is perfect for on-the-go touch ups. This is a blush stick and a lip tint all in one. It is extremely hydrating and even comes in three different shades. The three shades are called wine, berry, and nude. The shade "wine" is a very beautiful light plum color. The shade berry is a pinkish color with a dark twist that is very unique and elegant. Lastly, but not least, the nude shade is a bit orange tinted yet has a very natural look. This cheek and lip stick is $30 and very worth it.
Marc Jacobs Eye-Conic Multi-Finish Eyeshadow Palette
This eyeshadow pallet is everything one could want in an eyeshadow palette. There are seven different colors in each of the palettes, and six completely different colored palettes. For each of the palettes, there are always two or three shadow colors that have the perfect amount of sparkle and the rest are great and simple base colors. There are blue, purple, and nude based palettes that make it easy to explore many different looks. Each palette is about $49, and although expensive, very worth the money due to the incredible amount of diversity each palette gives.