Popular Outdoor Restaurants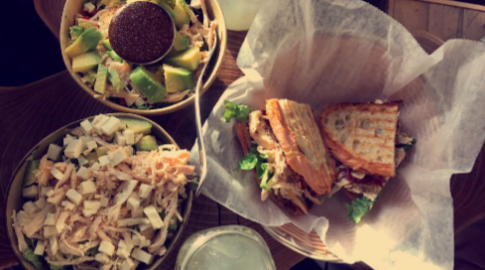 Allie Carlson
April 18, 2018
The weather is finally warming up, which means outdoor dining is a must. Many New Jersey restaurants are known for their "insta-worthy" environments. While some places are a bit of a hike, others are right around the corner; but regardless of the area, there are many places that must be visited during the up and coming summer months-so hop on the trend and grab a bite.
Farmhouse
Located in Westwood NJ, Farmhouse is the perfect place to go for a full sensory experience. The outdoor seating area is decorated to perfection, giving off a vacation-like appearance. Farmhouse serves everything, from traditional breakfast foods to loaded burgers, making it impossible to leave without feeling completely satisfied.
Sam Petrellese, Pascack Hills junior, said, "Farmhouse is my all time favorite place to eat when the weather is warm. It's super close to us, and it's the perfect place to go for a fun meal with friends."
Janes on Main
Janes on Main is a quaint cafe located in Pearl River, New York, only a short 10 minute drive from Pascack Hills. This eatery offers a variety of breakfasts and lunches that taste just as good as they look. Their food options are on the healthier side so if your looking for a unique, delicious place to eat without feeling tempted by fattening foods, Janes on Main would be the place to go, especially over the summer when you can enjoy your meal under the sun.
Natalia Miniatis, a Junior at Hills, said: "Janes on Main is my restaurant of choice for summer breakfasts/lunches because they offer a lot of different choices, but none of them are loaded with calories, which I prefer during the warmer months. It's also so nice to sit outside. The area is adorable and perfect for picture taking. "
Bibi'z
Also located in Westwood, Bibiz is an award winning restaurant and said to have the best atmosphere of all restaurants in Bergen County. Because of its close proximity to Montvale and Woodcliff Lake, Bibi'z would be an easy place to sit out and enjoy the nice weather, while enjoying a one of a kind summer-esque drink (non-alcoholic, of course) and a delicious variety of foods.
Pier 115 Bar and Grill
Although a little ways away from Pascack Hills, Pier 115 is sure to provide you with an amazing dining experience. Located in Edgewater, Pier 115 is a waterfront restaurant, offering an amazing meal accompanied by an even more incredible view. It is considered a bit pricier, so if your looking to buy a big meal, the closer, more localized restaurants may be more suitable. Pier 115 is ideal for gathering friends, enjoying appetizers, and taking in the breathtaking view. There's really nothing like it.