How Social Media is Changing the Beauty Industry
Today, saying that the beauty industry has a diversity problem is a drastic understatement. While there have been many reports and opinion pieces that have addressed this issue, many of the world's largest beauty companies still do not offer a variety of deep shades for darker skin tones, although numerous fair shades are produced and sold in stores.
The industry's inability to quickly change in a seamless way has encouraged social media icons to utilize their platforms (whether it'd be Youtube, Instagram, Twitter, etc.) in hopes of implementing diversity and inclusivity within the beauty community.
Social media is an incredibly powerful way to reach a broad and diverse audience. Although each and every person can take a liking to their own individual things, it is almost impossible for anyone to scroll past a celebrity's posts. Most of the time, they are advertising or discussing a global issue, which is something that has unified society and given birth to communities that have empowered their members to become catalysts for change.
The hashtag, #blackgirlmagic, which has been trending on social media, has been used close to two million times by strong, intelligent colored women as a way to show how loud and proud they are of their heritage and culture. The phrase, coined by CaShawn Thompson, started as a way to counteract negativity, and is now a full-blown movement.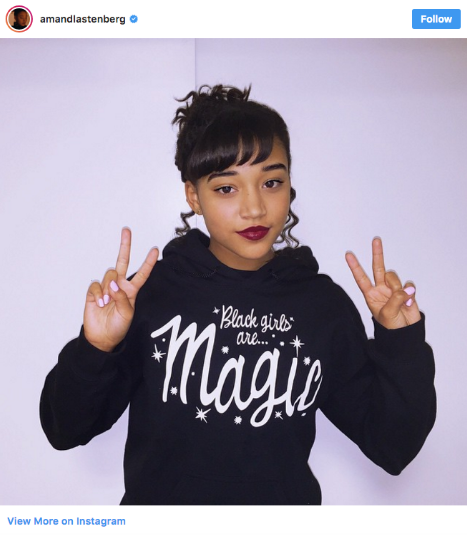 Screenshot taken by Avery Paulen
According to allure.com, Kristen Brown, the founder of Gold Label Cosmetics, points out that "Tumblr and Instagram have hundreds of beauty accounts showcasing Black women where the reposting of a selfie or a gorgeous hairstyle goes viral in less than an hour. Many social media posts, where women of color are shown, you will see comments that compliment their beautiful skin and features."
Historically, this community hasn't had a place where they could vocalize their beauty frustrations, but this is no longer the case. They are now able to connect with like-minded individuals, thanks to social media, who also want to celebrate their beauty both inside and out.
"Black women are tired of pleading with big brands to include them and are tired of being overlooked," says AJ Crimson, founder of AJ Crimson Beauty, a makeup brand that strives to be inclusive of all ethnicities. "She understands her power as a consumer and she is demanding to be serviced, and social media has publicly forced many companies and influencers to listen to these women and take action to be all-inclusive or she is taking her Black dollars elsewhere."
Black women spend a staggering $7.5 billion annually on beauty products, but spend twice as much on skin-care products and 80% more on cosmetics than everyone else. So if that's the case, shouldn't they be treated as equally as fair-skinned women, who actually acquire less makeup and skincare?
Not only does social media strive to bring awareness to the issue of women of color in the beauty industry, but it also highlights acceptance within the LGBTQ communities as well.
Male makeup artists, such as James Charles, Jeffree Star, and Manny Gutierrez are helping to re-define the cosmetics industry as one that is open to everyone, not just women and their social media followers. By uploading unique and creative content to their Youtube channels and Instagrams, their broad fan bases feel inspired to follow in their footsteps by advocating for change and acceptance as well.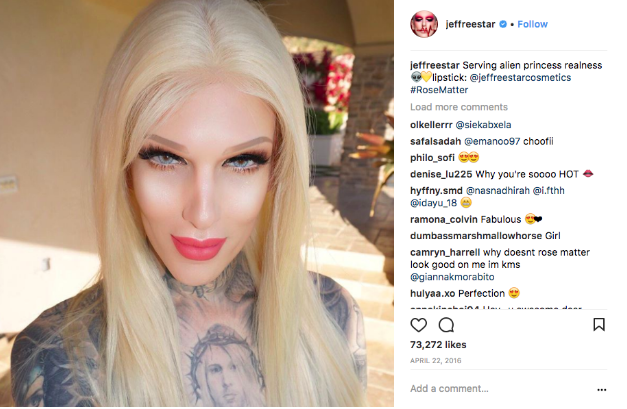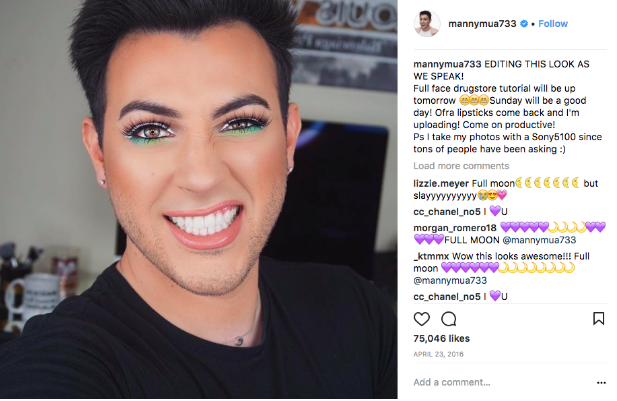 Screenshots taken by Avery Paulen
James Charles was named the first male CoverGirl, which was a huge step in the right direction for the beauty industry. CoverGirl said in their selection statement, "All of our CoverGirls are role models and boundary-breakers, fearlessly expressing themselves, standing up for what they believe, and redefining what it means to be beautiful. James Charles is no exception. One year ago, he boldly chose to launch his Instagram to the world, using transformative, dynamic makeup looks to showcase the many facets of his personality, serving as an inspiration to anyone who might have been afraid to do the same."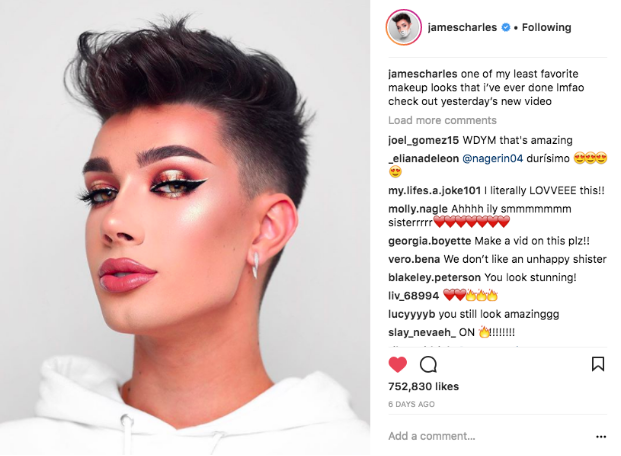 Screenshot taken by Avery Paulen
Throughout the years, we have seen just how big of an impact social media has made on the beauty community, despite the various negativity associated with it. It is important, as followers of social media influencers, to pass along their message of acceptance so that we can create a world that is comfortable and kind to everyone, no matter their race or gender.
Leave a Comment