Smorgasburg 2018: A Food Heaven
Based in Brooklyn, New York, Smorgasburg is a yearly food festival that occurs from April to October. Being an extreme food fanatic, I have attended this festival for the past three years, and based on experience, I can say this year has the widest array of vendors from around the world.
Himalayan Horizon
After prepping my stomach for Smorgasburg (aka. not eating breakfast), this unique stand of merely local snacks from the Himalayas was a great way to start my food journey. Selling mainly various shabaleys (fried circular pockets of dough) filled with buffalo, beef, or potatoes, its crispy yet buttery shell pairs perfectly with its salted filling and tomato-fenugreek sauce. With a choice of spice in the sauce, it gives the dish an extra kick and fully brings street-food to life.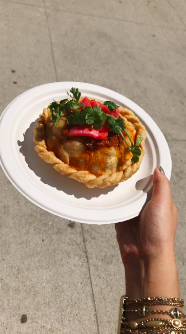 East Coast Poke
Fresh and customizable, it's no wonder that poke is the new trend in the US. From salmon to ahi tuna to yellowtail, East Coast Poke is the way to clean palette when taste testing in Smorgasburg. With a choice of sauce and a side of sesame seeds and seaweed, each bowl is delicately designed to balance each element: the chewiness of the rice is balanced with the crunchiness of the seaweed salad, the neutral taste of the fish is balanced with the colorful flavors of the sauce.
Baonanas
Time for dessert! Advertised as just as refreshing as ice cream, this simple banana pudding is a quick, yet delightful, bite. Smooth and creamy, it has the same effect as ice cream without the mess of melting. Although a bit on the sweeter side, the traditional pudding is reinvented with original flavors – oreo, matcha – and diverse toppings.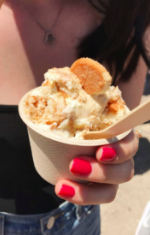 Zia Green Chile Company
An inventive spin on an otherwise childhood drink, Zia Green Chile Company sells a pink drink that'd make your food journey under the burning sun at Smorgasburg a little more bearable. While this food stand does sell other foods, the product that caught my eye was cactus lemonade. Bright pink and with a twist, the tartness of the cactus leaves an unforgettable taste that has everyone coming back for more.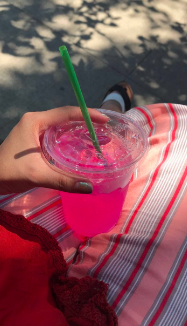 Bonsai Kakigori
A traditional Japanese dessert, Bonsai Kakigori offers a much needed relief on a hot day. With limited choices (matcha, strawberry, and mango), the ice has an authentic taste in every bite that is paired with a fluffy cream on top. Easy to eat and carry around the festival, this iced dessert is must-eat at Smorgasburg (another plus, it's Instagram worthy!).
Yakisoba NYC
My favorite dish of all – a full grilled squid with noodles. Being that the line was miles long, I was ecstatic when I finally got my share of the stand. Seasoned with soy sauce and nicely cooked on all sides, the squid had a char that didn't give the impression of being burnt. The texture of the squid was just right as well – not to soft but not too difficult to chew either. What really tied the dish together were the stir-fried noodles that had a sprinkle of sweet and sour. With its size and ingredients, I believe this was the steal of the day!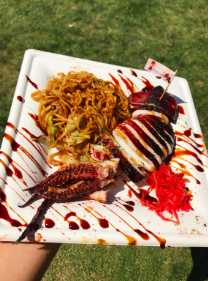 *Smorgasburg opens at 11am on Saturday at Williamsburg and Sunday at Prospect Park