New App Alert- Dote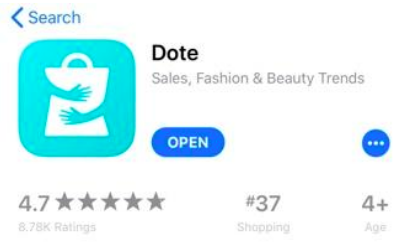 Tapping into Gen Z early, digital shopping app, Dote, is the next big thing to obsess over. The new app has gained loads of popularity in the last year and now has $44 billion in spending power, according to Mintel. The app makes shopping at all your favorite stores simple. As soon as one opens the app they are asked about their opinions on specific styles and their favorite stores, creating a "favorites" section of stores and customizing a "for you" section with deals that the user would be interested in.
From stores such as Sephora, Pacsun, Reformation, Brandy Melville, Forever21, Dormify, Tory Burch and more, Dote has something for every shopper. Composed of high end and low end stores, Dote provides great deals that has users coming back to the app multiple times a day. According to adweek.com, Dote's average daily user comes to the app four times a day and views more than 75 products in each shopping session.
Dote has gained a lot of popularity through the many growing influencers that have been sponsoring the app on their YouTube channels and Instagram pages. Popular "Youtubers" with hundreds of thousands and even millions of followers such as Emma Chamberlain, Margot Lee, and Olivia Jade work closely with Dote, speaking highly of the app in their videos which has caused a lot of their viewers to download the app. Viewers can follow their favorite influencers after downloading the app and get some fashion inspiration from their accounts.
The app even has a section called "Giveaways" where influencers who work with the company pick products to give to a lucky winner and all the participant has to do is follow the influencer's profile, visit the app two days in a row, and share the app with a friend-sometimes these rules vary depending on the giveaway, but it is nothing difficult.
The app is very user-friendly and allows for customizable lists to be created in order for users to be able to favorite all their favorite jackets in one section, and all their favorite shoes in another. Many enjoy Dote for its "Dote Coin" feature. If one enters the app once a day, they get a "Daily Check-in Bonus" where they can pick one box of three to click on and claim a few Dote coins which eventually can lead to one redeeming a prize. On top of this daily check in, every dollar spent through the app gets you a Dote coin. The more a Dote coins a prize costs, the better quality the prize is. A prize for 100 Dote coins means free shipping on the users next order, or the user can choose to save their coins and collect them to use them for an even bigger prize such as the 1000 coined prize- being featured on Dote's Instagram account that has over 75,000 followers.
Popular influencer, Emma Chamberlain, who has 3.7 million subscribers on YouTube, even created her first clothing and accessories line through the app which has caused a lot of traffic towards Dote.
Dote has been growing in popularity tremendously over the past year and it does not look like it is to die down any time soon. The app can be downloaded for free through the app store and is compatible on apple devices such as iPad and iPod touch as well as any iPhone that has iOS 10.0 or later.