Spend Some Now and Save Some for Later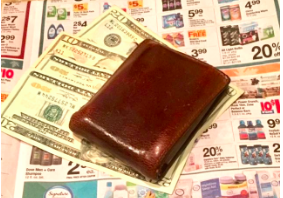 Students at Pascack Hills are spendy shoppers; however, most do not know how to appropriately spend their money without wasting it. For many, this problem can be alleviated by taking advantage of modern day money saving tips. There are helpful apps, student discounts, coupons, and simple tricks that can make a significant difference.
Most job opportunities require students to be 16 years of age to work; therefore, many freshman and sophomores often do not have a job, yet there are still possible sources of income for those at age 14 and 15.  While there is always babysitting, lawn mowing, and dog walking as options, there are also fast food restaurants, many clothing stores, and camps where teens and pre-teens can be hired during the summer. There will always be a limit on the number of hours a student can work because their primary responsibility is to attend school and focus on schoolwork. Therefore, one will not make as much money and will need to learn how appropriately budget the little income received.
Sophie Resendes, a sophomore at Pascack Hills, works at Park Pizza where she answers the phone and writes down costumer's orders. Sophie says, "It helps me save money that I can set aside to buy a car when I have my license." She paused for a moment and laughed, "I still do spend some of it though." Sophie continued to explain how she puts some of her money in a savings account as well. Sophie was not aware that high schoolers can get student discounts and can download apps to help save money.
Furthermore, the variety of student discounts that college students can potentially get is impressive, yet most forget that high schoolers are privileged with some of the same discounts. High schoolers can get sales from magazines, Amazon purchases, fast food, and most commonly known, the movies.
The more one experiences, the more one can find. For example, Rebecca Litvinsky,  a senior at Pascack Hills, says "I go to museums a lot, such as The Met, and they give student discounts."
Erin Buquicchio, a senior at Pascack Hills, says "I am aware that high schoolers can get student discounts, you just have to look online for the deals of the week and they'll have stuff for students." When students are more proactive in finding these deals and discounts, it can save a lot of money.
There are also several apps that are useful for people of all ages. Some of the most commonly used are, Digit App and Retailmenot; however, any "money-saving app" is helpful because they all do similarly the same thing. Digit App, and most other apps, analyze how much money one spends and aids one in saving the perfect amount each day. The app does all of the work for you. Over time it helps you save small amounts of money which is useful in the long run. Retailmenot is very simple. It shows you coupons from almost any store you like. You can either browse the most used coupons or search a store which will show you the coupons and deals of the week for that particular store. When you want to use a coupon, simply click on it and show your phone to the register.
Rebecca Seickel, a senior at Pascack Hills says "I have one app, its called Capital and I don't know what I do without it. I'd probably spend it all." She explains that it takes a portion of her paycheck each week and saves it away in her bank account.
The simplest tip of all is to be careful of spendings and keep track of purchases. Think about spending choices and instead of shopping at a mall, try shopping at outlets. Look for coupons in the newspaper, especially on Sundays. Groupon is another good place to search for all sorts of coupons. Even if you have a job, do not blow it all thinking you will receive more. Alex Truszkowska, a senior at Pascack Hills, says "I keep two wallets, one that's my everyday wallet and one that I put my babysitting money in."
While all of these suggestions are very useful, there are more tips that you can do that require even less work. Instead of buying lunch each day, bring a brown bag lunch. If you want to go out to eat with your friends, rather than going somewhere pricy like the Park Steakhouse or Fire and Oak, go to places more in your price range like The Diner, Chili's, or IHOP.
Jasmine Delgado, a Sophomore at Pascack Hills says "I just went to IHOP last week with about 5 of my friends and had the best time. I barely spent a dime and had a good meal with my friends."