It's Lunchtime, Seniors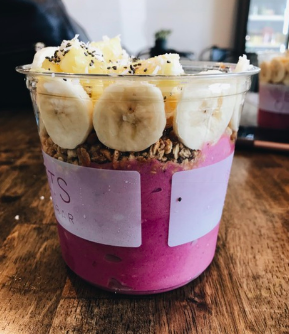 Senior year- a period in everyone's high school careers with many privileges that include obtaining a parking spot, senior night during sport seasons, and most of all, the ability to leave the school during their lunch period. They have the choice to go home and relax, eat out with friends, and or drive around for an hour, just to kill time. Whatever they decide on, it is significant to know which places are worthy to eat during the 47 minute lunch period.
Beets Juice Bar
Located right up the street from Pascack Hills, there is a strip of stores and eateries that are quick and super delicious. Located in that area contains Beets Juice Bar as well as many other places. Beets is a Juice Bar that contains different varieties of acaí bowls, smoothies, and other munchies that are healthy and delicious, especially on the go. The bowls will surely fill one up for the rest of the day and give plenty of energy for their future activities.
Molly Kehoe, a student at Pascack Hills, stated, "Beets is my favorite place to go to for a quick bite, or after practice. I love their acaí bowls because they are so healthy and filling at the same time."
Chipotle
Included in the strip of eateries is the famous Chipotle. Chipotle is a well-known restaurant that gives the customers the freedom to create their own bowl, burrito, or taco with their choice of steak, chicken, or pulled pork. This is a very popular location among Hills students, especially on a time crunch as it is quickly made, very delicious and filling, and accommodating for everyone as you get the choice to create your own meal.
Panera Bread
Panera is a cafe/bakery that many people absolutely adore. The closest Panera is located in Tices Corner, which is in Woodcliff Lake. The menu ranges from soups, to salads, to sandwiches and contains many different options for a fantastic meal. The menus offer a "you pick two" option which allows the customer to choose two items to be included in your meal, each a slightly smaller size than the original. Many people adore Panera as it is extremely delicious, has healthy options, and offers a "feel-good" meal.