Fab Fit Fail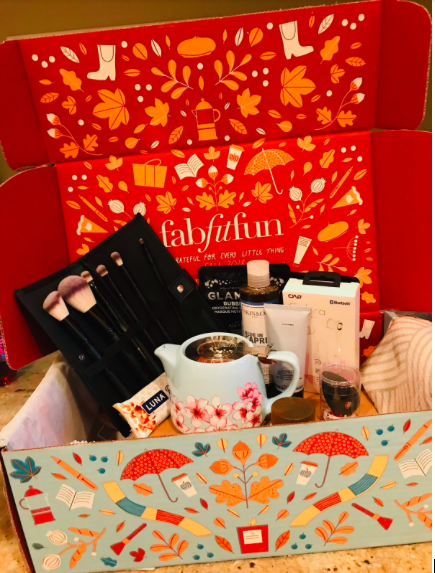 Erin Buquicchio
October 30, 2018
Savvy subscription boxes are taking the online shopping heist to a new level, and yet some are subpar. Fab Fit Fun, a company launched in 2010, changed the game but more recently there has been a decline on this top rated company.
When I first received my box I ripped open the fall-inspired cardboard, but to my dismay there was nothing that screamed fab, fit, or fun. Inside the box contained full-sized options, making it appealing when compared to FabFitFun competitors.
Although completing the questionnaire to the fullest extent, nothing that I had requested be put in my box was there. When I asked for no food, I received a Luna Bar, when I voted for jewelry, I got shower gel. When choosing my "pick three" options, I only received two out of the three things that I wanted; one being a item I didn't even want. As a seventeen year old, hand towels aren't even on my mind, but there it was, in the box. It seemed like this was made for a trendy woman in their twenties, not a high school student. Disappointed doesn't begin to describe it.
Senior Alexandra Truszkowska states, "That's the problem with subscription boxes. You never know what will be in it and is it truly worth wasting your money when you have picky tastes."
It's undeniable to say you don't want a box filled with the things you like, and what I believed would be everything I desired was just wishful thinking.
For $39.99, I expected more than I received. By becoming a first time member, the website gives you $10 off, making this a deal I thought I couldn't miss, and yet because of the three week shipping process, it felt like I had spent $69.99.
Sophomore Reece Ferrentino says, "I've never used subscription boxes, but I would consider using them, especially ones like Ipsy that send you makeup samples. I think boxes that send you full bottle skin care items because it gives you the opportunity to find new products that you like and go out and buy without having to pay the full price only at the original store to find out that you don't like it."
Subscription boxes such as FabFitFun is a gateway into an inevitable scam. Boxes like these are designed to help you enjoy the little things in life, making "you instantly happier." Although I appreciated their ability to tell I needed the "Dew-It-All" eye cream for the repercussions of late night studying, or the wireless headphones for after school practices, that was all they could help with.
So yes, although the Fall 2018 box was clearly a flop, this high-rating company could  have more in store for their future editions and I intend to keep an open mind. If I was older perhaps I would appreciate it more. However, if I had the choice on whether or not to purchase for the first time again, I wouldn't click "Complete Order."