FabFitFun: A Redemption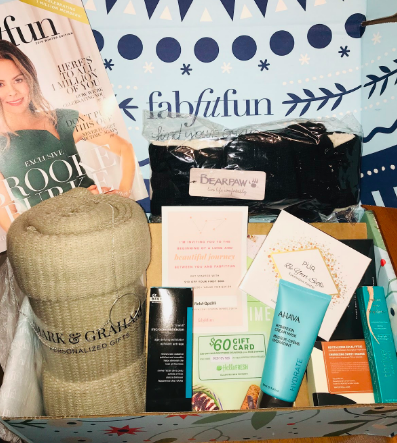 Erin Buquicchio
December 20, 2018
Although my previous conclusions ended with an F on the FabFitFun report card, I've decided to take another look into this season's version of the patterned box. Filled with goodies for a girl who has a craving for their best self, and yet again, I found myself wanting more than I received. At best, the FabFitFun winter box 2018, was nothing more than a B-.
The box comes packaged with holiday-theme cartoon characters, those of which seemed more cheery than I was to open the box. As I ripped it opened for the second time, I noticed that they had collected the right materials I requested in one box all together. This time, what I saw seemed like the items that I wanted in my ideal box. When I asked for no food, I didn't get any. When I asked for jewelry and makeup, that's exactly what came. Finally, Fab Fit Fun seemed to listen to their customer's needs.
Senior Aleksandra Truszkowska states, "Subscription boxes are weird like that, sometimes you get exactly what you want, and sometimes you get far from it."
The only catch is that the price has gone from mild damage to my wallet, to a gust of wind when I open it. After receiving a discount for your first box, they automatically place you into an active seasonal account, and force you to pay $49.95 for what seemingly appeared as a slightly more successful version of the last box.
This time the creators of my box focused on the stress of a first-semester senior; yet, this time, I'm not disappointed. One of the biggest boosters to add to my day is the Thrive Causemetics Brilliant Eye™ Brightener in Stella. Without a doubt, the newest addition to my go-to's hidden in my backpack/clutch.
English teacher, Ms. Apanosian states, "I've never subscribed to a 'fabfitfun' but I see so many instagram models who advertise it and it looks really cool and seems like a good idea for a gift with the upcoming holidays approaching."
As a track athlete, not only did I appreciate the BearPaw mini-combo of both a fuzzy black headband warmer, and matching finger gloves with an attachable mitten just in time for the frigid New Jersey weather, but I absolutely loved the idea of wearing something not only fashionable but comfortable: one of the things FabFitFun emphasises the most in their company.
So yes, in the past I did put down the tempting dream of getting full-sized products worth over hundreds of dollars, all for the price of a mere fifty dollars, however I still believe with utter confidence FabFitFun is a scam.
" It wasn't a good experience, I think it is a scheme, you should just save the money on the box and buy something you really want", Ms. Pfleging states her honest opinion.
So unless you would like to spend $200 by the end of the year for only four boxes of products you might never use after the first try, then I once again suggest that you should leave you wallet untouched. If it wasn't for the evil seasonal active account stealing another fifty dollars from my mother's credit card, then I wouldn't be writing this article, and I certainly wouldn't have wanted to see another FabFitFun box again.