Five Fall Festivities in New York City That Can't Be Missed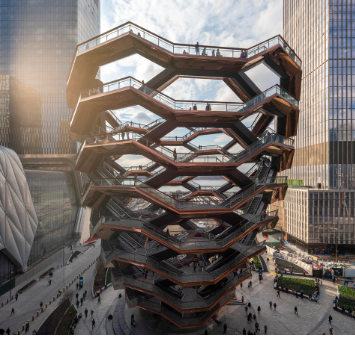 From weekends to long breaks, students have opportunities to be a New York City tourist throughout autumn. If they are not busy with their studies, they can take a drive with their family or friends and explore the following attractions: 
Top of the Rock 
This location allows tourists to view New York City's skyline for a ticket fee and an elevator ride up. The adult ticket fee (ages 13 and up) is $38.00 and a VIP ticket for $75.00. The attraction is open from 8:00 A.M to 12:00 A.M with the last elevator ride being at 11:00 P.M. If coming to Top of the Rock during autumn, make sure to bring warm clothing because the glass viewing wall does not have a roof. 
"You're surrounded by Manhattan vibe, and getting fall scenery, which is an amazing experience altogether; you can't recreate Manhattan scenery anywhere else in the world," said freshman Kate Zydor.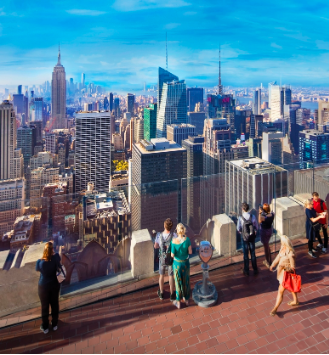 Photo Credit: topoftherocknyc.com
Fall Foliage Tours 
Though this activity is not in the middle of the crazy buzz of NYC, foliage tours offer a serene approach to looking at the city. These boats pass famous landmarks, such as the George Washington Bridge. Tours range from two hours to almost four hours, allowing tourists to choose a length of their liking. Most tours are on cruises or yachts, but there is one closer to New Jersey where people can ride sailboats. 
"There are fall foliage tours going on, which are pretty cool," said sophomore Jackie Soltman.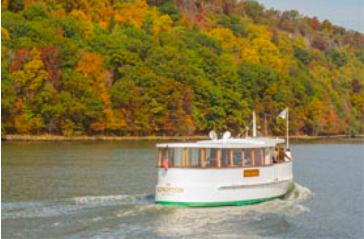 Photo Credit: sail-nyc.com
Central Park 
Whether it be visiting Sheep Meadow, Central Park's area reserved for relaxing and picnicking, walking to The Lake, or touring the Central Park Zoo, there are 25+ activities that are available to do in Central Park in the fall. Plus, the trees will have foliage in vibrant orange, red, and yellow.
"I'm not much of an outdoorsy person, but I'm always in the mood for a stroll through Central Park," said freshman Jacob Levin.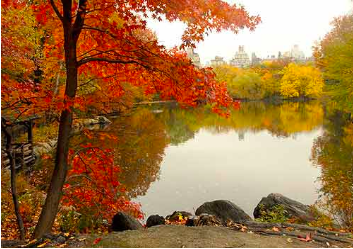 Photo Credit: centralparknyc.org
Hudson Yards 
Known as "New York City's newest neighborhood," Hudson Yards offers hotel rooms, dining, tourist attractions, and shopping malls. In the autumn, special activities they have include "Fleurs de Villes," starting on October 25th and  ending November 3rd, and "Halloween Eats at William Greenberg," which is occurring for the whole month of October. During "Fleurs de Villes," people can look at mannequins covered in floral arrangements as a preview to the Jardin Blanc in London, England, meanwhile "Halloween eats at William Greenberg" is where people can attend dressed up in costumes and eat treats such as cookies and shortbread. Plus, Hudson Yards is known for their "Vessel," which provides a picture opportunity for social media, and stores and restaurants to go to. 
"Today it was pretty rainy, so we went to Hudson Yards," said freshman Avery Marques.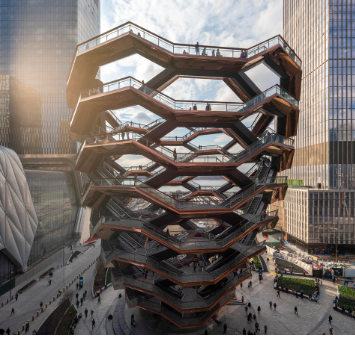 Photo Credit: hudsonyardsnewyork.com
Feinstein's/54 Below 
Here, singers from Broadway and nightclubs come sing to the crowd as they eat. Some performances that will be there during this season are "54 Salutes Frank Sinatra" on Saturdays starting November 2nd, "54 Sings Ke$ha" on November 10th, and "54 Sings Broadway's Greatest Hits!" on November 23rd and 30th. 
"It's important to acknowledge other places for theatre that are off-broadway in NYC such as 54 and Below," said freshman Maddy Leibman.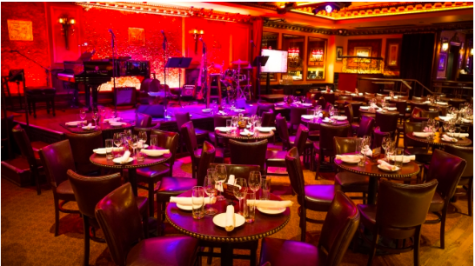 Photo Credit: 54below.com
This is just a taste of the autumnal activities the Big Apple offers. Even as a change in scenery, NYC offers comforting, casual places for people to explore. Before the season ends head on down to New York City; these attractions are worth the trip!