How to create an aesthetically pleasing iOS 14 home screen
"I think [iOS 14 is] a really cool update, and it lets people and kids our age express ourselves and have something that's unique to each person," voiced junior Christina Priestner.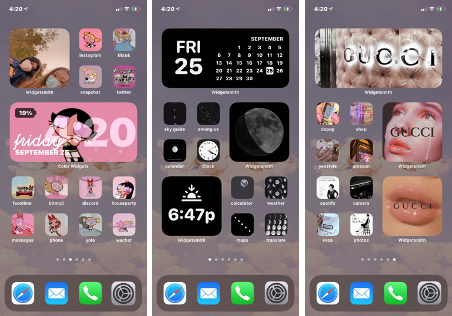 On Sept. 16, Apple released and introduced iPhone users to the new iOS 14 update. This update has many new features, including widgets and using the Shortcuts app to change app icons. Many people have used these two features to their advantage by customizing their home screens to express who they are, organize their apps, and to have an aesthetic look. 
How to change app icons and add widgets to your home screen
To create these personalized home screens, it is recommended to use the Shortcuts, Widgetsmith and Color Widgets apps.




Using Shortcuts to change app icons is quite simple: go to Shortcuts, click the + in the top right, click "add action," press "scripting," and choose "open app." Click on the app that you want to customize, click the three dots in the top right, click "add to home screen," and then change the name and icon of the app.
Widgetsmith allows you to make your own pictures become a widget. To do this, make a photo album with only one photo in it–the photo you want to make as a widget. On the app, select "add widget" in whichever size you desire, click the design that says "default widget," scroll to "photos in album," select the album containing your photo, and you are all set!
Color Widgets adds widgets containing the date, time, and battery percentage to your home screen. Using this app is simpler than any other because all you need to do is go in the app and select any of the options that are available! While you cannot choose any picture to be a widget, you can change the fonts and color schemes of the 28 different widget designs to choose from.
aDVERTISE HERE

Why many people are liking the new iOS 14 features 
The iOS 14 update is one that many Hills students shared positive feedback on for multiple reasons.
"Out of all of the updates, I'd put iOS 14 at the top of the list. With the update, there are more ways to express yourself through your home screen; you're able to add more pictures besides just the background, which to some people is awesome because it's a hard decision to choose what picture you want to see whenever you look at your phone," said freshman Christina Reineke. 
"
iOS 14 is a really fun change to your home screen… and this update lets you get really creative."
— Ella Espino, Hills freshman
People constantly change their home screens from one photo to another because they would find their current picture boring, develop a different style, or are conflicted with choosing one thing to express themselves. With the new widgets feature, people can now display multiple photos on their screen. 
Hills freshman Ella Espino commented that "there are some things I would probably change, but overall the update is good for people who like to get really creative and are super neat. You can add widgets and choose if you do not want a certain screen to show." 
With the option to hide certain home screen pages and add widgets, this update gives users the opportunity to become more organized with their phone layout. People group apps by color-coding their widgets and having each home screen page be made for certain types of apps (such as a page meant for school-related apps, social media, etc.) and more. 
"I think it's a really cool update, and it lets people and kids our age express ourselves and have something that's unique to each person. While past updates just let you change the background, this can actually let us go into detail of what our interests are through pictures," voiced junior Christina Priestner. 
With the option to add any and many pictures to one's phone background, people's phones are much more personal and expressive. There was never much creativity behind someone's home screen until now where people can switch up the layouts and add any photos they like.
"The iOS 14 is a really fun change to your home screen…and this update lets you get really creative," Espino also shared. 
Many people have enjoyed the new iOS 14 update since it gives them a chance to make their phones more aesthetic and organized, especially considering that there are only a few apps needed to make those simple yet creative changes. With these small number of apps and a few clicks, people are able to customize their home screens in ways that were not available before the iOS 14 update.
Leave a Comment
More from the contributor(s):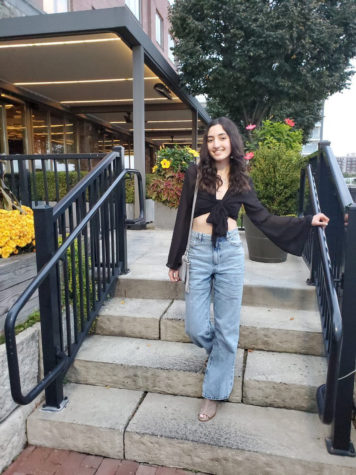 Anabelle Joukhadarian, Opinion Editor
Anabelle Joukhadarian is a junior at Hills. She joined the Trailblazer her freshman year as a staff writer and edited for the Opinion section her sophomore year. This year, Joukhadarian is looking forward to keep editing for the section alongside co-editor Madison Saks.

Fun fact: Joukhadarian likes traveling, animals, and science, especially biology.