The tricks and trends of fall 2020
Learn about what's new during an autumn like no other, as the world learns to adapt to the Covid-19 pandemic.
Fall 2020 will certainly be one for the books. Stores are starting to open again as the world is learning to adapt to the pandemic. Check out the newest tricks and trends this fall! 
Clothing 
Sweater weather is finally here! As the temperatures decrease, people are changing their closets from shorts and tank tops to jeans and jackets. Something as simple as clothing can make teens feel truly confident and comfortable. But what has become increasingly popular this past year?
Designers always like to make each year unique, and this is no exception. Even before the pandemic, many fashion companies had predicted the newest styles to hit shelves in fall 2020. 
Comfort mixed with style is seeming to be the trend this year. Other than that, the styles are all over the place. Oversized hoodies Tye-dye has made a serious comeback, popping up in stores  Right now, many are choosing to value vibrant colors and stylish accessories. Sweatshirts, a pair of jeans, and sneakers are one of the most popular looks due to its style and versatility. Look around at the students at Hills, and see if you can spot these fashion trends! 
aDVERTISE HERE

Flannels have also become increasingly popular. Every year, people rush out to stuff their wardrobes with different styled flannel shirts. What makes them so unique? First, they are very affordable and durable. If taken care of, they can last for several years. As the weather gets cooler, flannel jackets provide warmth against the elements, especially for those chilly nights. They can also add a pop of color and personality to any look. Pair one with some denim jeans and cute boots for a classic fall look, or with darker colors for more of an edgy style. These jackets can be for anyone, the possibilities are endless! 
Nails
Nail salons are opening up again, and many are excited to get a trendy fall manicure. Whether choosing to paint your nails at home or venturing out to get them done professionally, you can follow the newest nail trends. Even at Hills, students like to show their style with cute and colorful nail polish. Below is a list of the most popular colors this October:
Red – either as a bold and daring statement look or a more neutral shade, red has unsurprisingly become a very trendy color during the fall season this year. 

Light Blue – many are trying to hold onto the last stretches of summer. With a dreamy and icy blue manicure, you can get that last feeling of summer while feeling that chilly October weather. 

Bright Pink – bold and bright manicure colors have become a trend over the last few months. Everyone likes a bit of color to brighten up their day! It seems like this is continuing into the fall. 

Neutral Tones – If you're not feeling for a bold manicure, neutral colors have been in recently. They will be able to match any outfit, and give a classic look! 
One way to spice up your mani is by adding cute themed accent nail(s). It is a great way to add interest without being over the top. Right now, adding an abstract design or even glitter accents to your manicure is very popular. Try it out!
Pumpkin spice 
The beginning of fall brings back everything pumpkin spice. Many associate pumpkin spice with Starbucks, which introduced their signature Pumpkin Spice Latte back in 2003. As it grew in popularity, other companies decided to join this fall trend. Now, as soon as the first day of autumn rolls around, crowds rush to the nearest shops to pick up pumpkin spice flavored food. From coffee to candy to other treats, the pandemic is certainly not slowing down people's excitement for this popular fall flavor.
However, not everyone is in love with this trend. In a recent poll done with members of the Hills student community, 41% of entries show that students love pumpkin spice flavored treats, while 59% disagree. 
There are thousands of new and surprising treats that have been flavored to match the fall season. Here are some highlights from the past few weeks showcasing the delivery of many pumpkin spice flavored things:
Famous for their other fall goodies, Starbucks had their earliest ever release of the Pumpkin Spice Latte

on August 28th. Customers continue to enjoy the drink into the season. Many branches have even sold out of the drink early due to their popularity. 

Dunkin' Donuts is also getting in on the pumpkin spice bandwagon. Some of their flavored foods include coffees, bagels, and, of course, pumpkin spice donuts. 

For coffee lovers at home, many brands have created versions of pumpkin spice milk as well as half-and-half for the fun to continue.

Want something sweet to start your day? Pick up a box of pumpkin spice cereal. There are many different options, from Chex to Cheerios.

With Halloween just around the corner, popular candy brands have introduced versions of their sweets flavored with pumpkin spice. 
View Comments(1)
More from the contributor(s):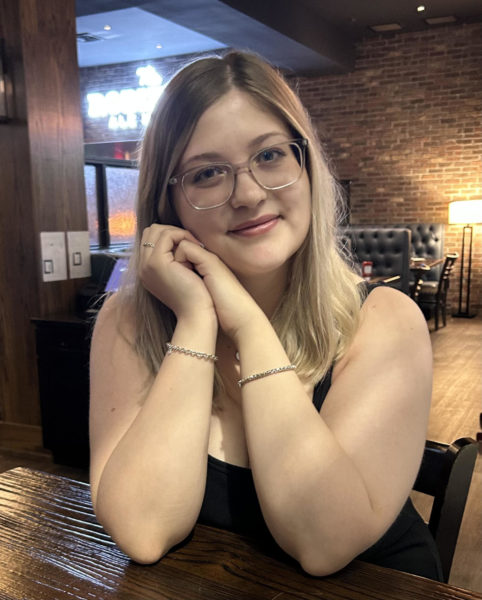 Kaitlyn Verde, Editor-in-Chief
Kaitlyn Verde is a senior at Hills. She joined the publication her freshman year as a staff writer and edited for the Arts & Entertainment and School News sections her sophomore and junior years, respectively. This year, Verde is excited to be the Trailblazer's Editor-in-Chief alongside Olivia Ge and report for the community with Hills Pride.

Fun fact: Verde enjoys reading in her free time, and her favorite book is "The Invisible Life of Addie LaRue."