December horoscopes
With the holidays coming up and the snow starting to fall, horoscopes for all signs show positive changes in the month of December.
Aries (March 21- April 29): December is a time for reflection and new revelations for Aries. Given that Mars, the planet of action, is only associated with this given sign for one more month, Aries will feel obligated to get their life back on track. Following the path of contemplation, when the sun moves to Capricorn on the 21st, Aries will find their ideal career path and where they belong in the real world. Then, when the full moon happens on the 29th, Aries will turn to family and friends to form bigger connections with them. Strengthening bonds is hard in these times because we cannot see each other in person, but Aries always finds a way.
Taurus (April 20 – May 20): This month, Taurus will be taking risks in every important aspect of their life, making this month a crucial crossroad in their path. They will start to take on more responsibilities as they become more serious about the direction they want their life to go, especially with schooling and their career. When the full moon arrives on the 29th, Taurus will ponder over what's helpful to them, and work on helping themselves for once by maybe reading a book, meditating, or doing some self-care. New beginnings are on their way.
aDVERTISE HERE

Gemini (May 21 – June 20): December for the Geminis is focused on building strong relationships. Mercury, Gemini's ruling planet, is opposite them this month, so it is the perfect time to start catching up with old friends, following the month's theme of relationships. With the solar eclipse on the 14th happening during the relationship sector, Geminis will find out who is really meant to be in their life and clear out some of the bad eggs. This will leave room for new relationships to start. When Capricorn season begins on the 21st, Geminis will become more serious and they will accept the relationships they've outgrown and either mend them or end them.
Cancer (June 21 – July 22): Cancers love the holiday season, regardless of religious beliefs. The holidays are a time for the family to get together, and that is something Cancers look forward to every year. When the solar eclipse passes, Cancers move towards focusing on their own health and taking a step back to regroup, maybe finish their missing assignments or rethink overbooking themselves with that extra sports lesson. They are known for being hard working, so when the sign changes to Capricorn on the 29th, they are ready for a well-deserved break to end the holiday season right.
Leo (July 32 – August 22): During December, Leo's fifth house of creative expression opens it's flood gates: this is a month of artistic expression and a time to let their imagination run free. In fact, the eclipse on the 14th will further awaken the creative house, possibly making an artistic awakening, and surely opening up sunny vibes during the wintery month. December 15th marks the day Venus joins the fifth house and adds longly awaited romance to Leos lives. They will settle for no one during this romantic season, setting their standards high. Although, this newfound romance will be put to the ultimate test when the Capricorn season begins and flaws become highlighted in the relationship. Clearly, it is a month for tremendous change.
Virgo (August 23 – September 22): The holiday season has inspired Virgos to sit down and rest, taking a well-awaited break. Virgos, known for their productive and focused behavior, will realize that everyone needs a break sometimes–and what better way than with family and friends surrounding them during the holiday season. When the eclipse comes around on the 14th, Virgos will begin their destined path with their family and friends, showing them a new dynamic they didn't even know existed. After almost a full month of relaxation, the 21st will open the creative fifth house and inspire Virgos once again, but this time to get up and flaunt their abilities to the world.
Libra (September 23 – October 22): The month of December predicts a month of personal growth for Libras. The intellectual third house is open this month, creating a time for exploring and opening their arms to new, fascinating people. Venus strikes again on the 15th, opening Libra's clever third house. Libras will become stronger and smarter in their relationships, treasuring compliments that bring them closer to their partner. As December 21st comes around, the sun returns to the fourth house of roots, where Libras will settle down to spend time with their families as the holidays get even closer.
Hannah Nadel, a sophomore at Pascack Hills, says, "I'm a Libra, and I don't usually read horoscopes, but I really hope this is accurate."
Scorpio (October 23- November 21): Scorpio's confidence is glowing during the winter season and shows them that they can think about themselves this month and buy a few hard-earned treats for no one other than themself. The eclipse sends Scorpios into a time of relying on their own self worth and begin the journey to boost their confidence. December 21st will open up their third house of communication, motivating them to reach out and socialize with new people, but also to become very involved in everything, filling up their schedule. This will be a month of adventure for the Scorpios.
Sagittarius (November 22- December 21): It's Sagittarius season! It's time to party for all the Sagittarius celebrating their birthday during December. The solar eclipse on the 14th will move them to the first house of self, bringing them to a fork in the road in their path of life, leading to important decisions to be made. Although, because the month is a special time for Sagittarius, the universe is making these decisions for them through fate. As Sag Season ends on the 21st, Sagittarius will take the time to realize their own self-worth, building inner stability and confidence.
Capricorn (December 22- January 20): December is a month surrounding emotional healing for Capricorns. Emotional wounds are a messy thing to heal, so Capricorns are in for a long month. The solar eclipse will open the spiritual 12th house as the Capricorn season becomes close and will lead to Capricorns lifting themselves off their emotional and physical burdens. It is the beginning of a new chapter that starts with the ending of an unimportant relationship in their lives. Once Capricorn season begins on the 21st, they will feel energized and inspired, ready to take the world up by storm.
Aquarius (January 21- February 18): Spiritual wellness will be Aquarius's top priority this month as they become closer to their community and become the leader they were always meant to be. On December 15th, Venus will take its root, blooming new relationships through socialization. So, Aquarius, take advantage of the holiday season and its many celebrations. When Capricorn season begins on the 21st, Aquarius's need for socialization dies down, and their focus turns to spiritual wellness. This will be a month of growth for the Aquarius.
Pisces (February 19- March 20): Pisces will feel the productiveness oozing out of them during the month of December, they are ready to start working! The solar eclipse lands on their 10th house of career on December 14, maybe making Pisces rethink their career choice and begin a new path. The universe is demanding a change, and it wants it fast. Even with all of the work, Pisces still has time for love with Venus stepping in on December 15th, swooping them in for a long ride with their newfound relationship, turning it into a fully developed romantic awakening. Overall, December is a month for Pisces to express themselves.
Overall, December is bound to be an amazing month. With the holidays coming up and the snow starting to fall, we are all in for a cozy winter spent with family and friends.
Leave a Comment
More from the contributor(s):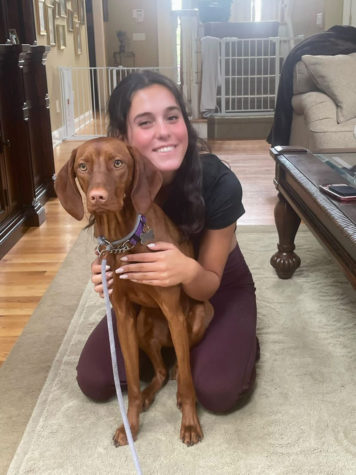 Madison Saks, Opinion Editor
Hills senior Madison Saks is looking forward to being on the Trailblazer staff for her final year. She joined the publication her sophomore year as a staff member and edited for the Opinion section her junior year. This year, Saks is eager to keep editing for the section alongside Anabelle Joukhadarian.

Fun fact: Saks has a rescue dog from Puerto Rico named Goose.