Best holiday songs for the 2020 holiday season
No matter what is celebrated, these songs will contribute to the joyful feeling throughout the holiday season.
The holiday season is a beautiful time of year, but it would not be complete without festive music. No matter what is celebrated, these songs will contribute to the joyful feeling throughout the holiday season. Below are some song suggestions that will get everyone rockin' around the Christmas tree.
aDVERTISE HERE

"Like It's Christmas" by The Jonas Brothers
First off, this Christmas song by the trio was just released last year, and was a hit and surely will be another top holiday song this year. In this song, the brothers sing to a loved one about how they make every day feel "like it's Christmas" during the holiday season.
"What's a better way to get in the holiday spirit than listening to your favorite artist singing festive songs?" said Hills sophomore Emily Sailer.
"Chanukah Song" by Adam Sandler
In this holiday song, Sandler writes what it is like to celebrate Hanukkah in a comedic way. In this song, Adam Sandler lists Jewish celebrities, common Jewish phrases, and everything involved in a successful Hanukkah. Although this is a slower song, it will get you in the holiday spirit.
"Christmas Tree Farm" by Taylor Swift
This Christmas song emphasizes the fantastic feeling when picking up a Christmas tree from a farm. Swift grew up on a Christmas tree farm, so she perfectly describes the feeling when getting a Christmas tree. This is a fun, upbeat song that will make the Christmas season so enjoyable.
"Underneath the Tree" by Kelly Clarkson
This upbeat Christmas song will surely put anyone in the Christmas mood. This Christmas pop song describes Clarkson's experience alone on Christmas Day, her experience spending the holidays with loved ones, and how everything is right when she is with the ones she loves.
"Hanukkah, Oh Hanukkah" by Glee Cast
This is one of the few holiday songs that will get you cheery for the holidays.  The Glee Cast version of "Hanukkah, Oh Hanukkah" is exceptionally upbeat and lively. Lighting all eight candles on the menorah will not be complete without this song!
"All I Want For Christmas Is You" by Mariah Carey
This holiday song by Mariah Carey was a classic in 1994, and each year during the holiday season, it proves itself to be one of the most streamed songs of the season. This song is sure to put anyone in the Christmas spirit!
There are so many more holiday songs out there; however, these are the hot ones right now to put anyone in the spirit of the holidays.
More from the contributor(s):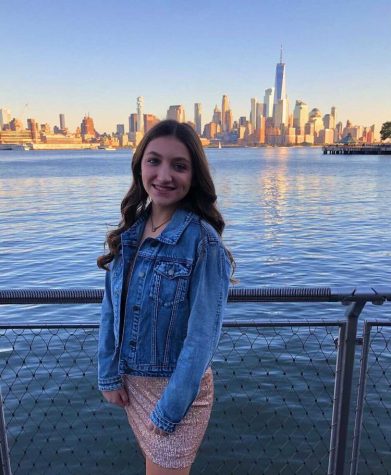 Rebecca Lovett, Life and Style Editor
Hills junior Rebecca Lovett is excited to be part of the Trailblazer for a second year. When she joined her sophomore year as a staff writer, Lovett wrote for sections such as Life and Style and Arts and Entertainment. This year, she is looking forward to editing the Life and Style section along with Julia Bang.

Fun fact: Lovett loves to sew and make her own clothes.