January horoscopes
Aries (March 21 – April 19): During January, Aries will be focused on making money and furthering their career. Mars, Aries' ruling planet, will leave on January 8th and move to Taurus, leaving open the 2nd House of Earned Income. This month will be high in cash-flow because of this. Professional opportunities will appear throughout this month, so Aries should take advantage of them and push themselves to their limit! The full moon on the 28th will bring out the romance sector of Aries, leaving them to discover a fulfilling romantic partner or further their relationship with their existing partner.
Taurus (April 20-May 20): Taurus is starting 2021 on a good note when Mars enters their sign for the first time in 2 years on January 6th. Taurus will gain the confidence to take on anything in their life and be ready to try new things. The New Moon on January 13th combined with Venus moving into their 9th House of Mind Expansion on January 8 promises that spiritual and intellectual growth will be rewarded financially. Sun and Saturn are at the top of their chart on January 23rd and they will leave Taurus to make important career decisions.
Gemini (May 21-June 20): January will turn out to be a month of self-care for Geminis when Mars moves into their hidden 12th house on January 6th. Geminis have had a long year and are in for a much-needed break. January will be a month of healing for them. During the New Moon on the 13th, their 8th house of finance will open up. So Geminis, expect a surprising sum of money to be handed to you, such as a bonus check or a gift from someone. Gemini's love life will be relatively mellow during January but will pick up at the end of the month on the 28th when the Full Moon opens their message sector. Expect a text from that special someone!
Cancer (June 21-July 22): Love is the recurring theme for Cancers in January. Venus enters their partnership sector on January 8th during the New Moon. Any Cancer already in a relationship will see a very happy month with their partner, possibly finally making things exclusive or even tying the knot! Any single Cancers will see new possibilities open up for them, and maybe they'll even find a long term relationship. Regarding finances, the Full Moon will push Cancers into a reality check on the financial debt they owe, and they will be forced to sort it out.
Leo (July 22-August 22): 2021 will start with a bang when Leo's Assertive Mars moves to the top of their chart on January 6th, setting their career sector on fire. It'll be a great month to reach for a promotion, launch a new business, or set themselves on a new career path. The Full Moon on the 28th will leave them emotionally available, and they will feel a strong urge to express their true feelings to others. Leos think with their hearts, so this month is no different. It will be a month of expression where they make sure everyone knows how they feel. So Leos, go profess your love or even tell them why you're angry, it's the perfect time to start a new leaf.
Virgo (Aug. 23-Sept. 22): Philosophy will become a big concern to Virgos this month and they will finalize their beliefs when Mars enters their 9th House of Morality and Intellectual Expansion on January 6th. They won't be afraid to speak their truth and let the world know how they feel. Virgos will take this month to speak up on their opinions that they've been afraid to convey in the past. Venus moves into Virgo's romance sector on January 8th, helping support new romantic connections and for those already in a relationship, they will receive a happy surprise.
Libra (September 23 – October 22): Finally, after what feels like forever, Libras will start 2021 with a sense of peace, harmony, and stability. Venus, Libra's ruling planet, will enter their family sector on January 8th, making their home life positive and welcoming, possibly giving them the chance to fix any broken family relationships. When the Sun-Saturn conjunction begins on the 23rd, Libras will reflect on their current relationship and reconsider if it meets their standards. It is the perfect time to start over with the New Year, and if their significant other isn't right for them, why keep it going? On another note, the single Libras will find their self-worth and realize that they don't need a significant other at this point.
Scorpio (Oct. 23-Nov. 21): 2021 for the Scorpios will start with the reconsideration of their current relationship routine, but, thankfully, their partner is on the same page. Mars moves into their partnership sector on January 6th, leading Scorpios and their partner to either try new things and spice up their relationship or pick arguments with each other because of the new change. It is up to them to figure out which direction they want their relationship to go. With the Full Moon on the 28th, Virgos will be getting new prospects in their career. Possibly a promotion or even a reward for their hard work.
Sagittarius (Nov. 22-Dec. 21): Money is a common factor in January for Sagittarius. Venus will move into their income sector on the 8th, and money will start to flow as a result of their hard work. When the New Moon comes on the 13th, the energy combined with Venus's energy will maximize the amount of money earned. When Mars leaves Sagittarius' romance sector on the 6th, they will finally be relieved of their romantic drama, but the long stay that Mars had forced all those Sagittariuses to find out where their heart is, so they are ready for anything.
Capricorn (Dec. 22-Jan. 20): Capricorns will be starting the new year with newfound confidence as Venus moves into their sign on January 8th. This confidence will have everyone chasing after them, leaving them with many romantic options. January is Capricorn's month, so their spiritual energy is high, and their annual birthday lunation during the New Moon on the 13th will give them the chance to set their intentions straight. So, Capricorns, make sure you're New Year's resolutions are ready! To end the month, Capricorn will get the decision to take some of their money out of savings to make a big expense or pay their debts.
Aquarius (Jan. 21-Feb. 18): An Aquarius means it when they say that their New Year's Resolution is to have more responsibility in 2021. It is a month of reflection and personal integrity for Aquarius, so don't let them waste it! There are two planets affecting Aquarius this month: Saturn will force them to reflect on their past and how it has shaped them today, and Jupiter will give them that final push of confidence so they can find personal growth. When the Sun-Saturn conjunction occurs on the 23rd, Aquarius will decide their personal path and how they will get there. During January, relationships can further the month of personal growth, or hinder it. The Full Moon will open their relationship sector, leading Aquarius to figure out where they stand emotionally with their partner.
Pisces (Feb. 19-March 20): Mars finally leaves Pisces' money sector on January 6th, and although that sounds displeasing, Mars had forced Pisces to impulsively spend their newfound money, so January will be a month of saving and being responsible with their expenses. When Mars moves, Pisces will gain the ability to stand up for themselves and speak their mind, something that is very hard for Pisces is that they are very passive people. Pisces's social life will vamp up again when Venus moves into their friendship sector (safely because of covid, of course) and they will become much closer with their pre-existing friends.
Leave a Comment
More from the contributor(s):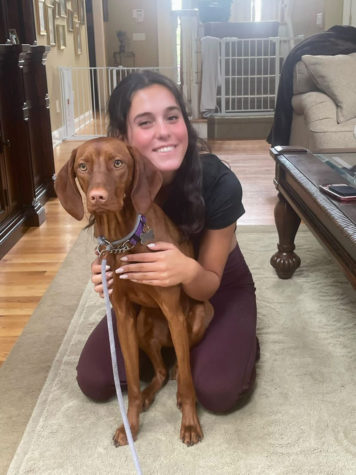 Madison Saks, Opinion Editor
Hills senior Madison Saks is looking forward to being on the Trailblazer staff for her final year. She joined the publication her sophomore year as a staff member and edited for the Opinion section her junior year. This year, Saks is eager to keep editing for the section alongside Anabelle Joukhadarian.

Fun fact: Saks has a rescue dog from Puerto Rico named Goose.