March horoscopes
Read below for your horoscope for the month of March.
Aries (March 21 – April 19): Aries, this is your time to shine. Starting on the 21st, your season is going to begin. Your ruling planet, Mars, is in your orbit this month, so be aware of your temper. Take the month to start thinking of yourself and maybe do a little self-care to get back on track. Venus enters your sign on the 21st, bringing new romances into your life or possibly furthering the ones that you already have. Overall, it's a good month for you, Aries. Get ready to crush it.
Taurus (April 20 – May 20): This will be a month of reflection for you, Taurus. You may need to reevaluate some friends in your life who you aren't vibing with the same way you used to. But, no need to worry, you have many other people that care about you to take their place. This month will also harp on your intuition. You are loyal at heart, but if someone is taking advantage of your kindness, you will figure it out this month. This will be a month of cleansing.
 Gemini (May 21 – June 20): Astrology can only promise so much, but for Geminis, there will be many opportunities for some cash influx. Whether it be with a job or maybe just doing chores around the house, you will definitely see some advancements. On top of that, with your zealous personality, you will be making new friends left and right, maybe even a new love interest. Even so, you will realize that with or without a love interest, platonic support from your close friends is very important and highly appreciated. Good luck.
 Cancer (June 21 – July 22):  Cancer, you are known for your hard exterior, but we all know how soft you are on the inside. This month, you're going to have to reveal that soft side to gain the trust of a possible new love interest for you. But don't stress, when Aries' season starts on the 21st, you will gain the boldness you need to start that conversation with the one you have your eye on. Clearly, an important month for all Cancers.
Leo (July 32 – Aug. 22): This month will be the start of new relationships for Leos. You may meet someone new, or you might turn towards a friend that you may start to develop a crush on. When Mercury moves through your house of transformation, you will be motivated to tell that person your crushing on how you really feel, or maybe take another step in a relationship you already have. Either way, it is a momentous month for all Leos.
Virgo (Aug. 23 – Sept. 22): This month will be a month of realization for Virgos. You tend to come off a little strong sometimes, so maybe this month you will ease up and start to focus on others. Perhaps you finally tell the person you've had your eye on for a while how you truly feel. On another note, start some self-care this month and make sure you're still taking care of yourself while you help others.
Libra (Sept. 23 – Oct. 22): The beginning of this month will ask you, Libra, to start some self-care and make sure you're getting enough sleep. Don't stay up all night studying or scrolling through social media. Instead, get that extra sleep so you can focus on your love life. New prospects are in store for you in the month of March, so keep a lookout. You never know where a new relationship will come from, so don't block out specific areas of your life. You never know, you could be standing next to them right now.
Scorpio (Oct. 23 – Nov. 21): Scorpios, it's time to start getting creative in all aspects of your life. Maybe you need to step it up in school and get more involved. Or maybe you need to think of creative ways to get that special someone to look your way. Whatever it is, you will be doing it this month. When Aries season comes into play on the 21st, your fiery side will be revealed, but make sure to keep it in check. We all know you have a soft side, so maybe show it every once in a while.
Sagittarius (Nov. 22 – Dec. 21): Sagittarius, you will be making huge steps in your life this month with personal growth, career growth, or educational growth. But, be careful, with all this focus on personal growth, don't give up on that search for that special someone. Any Sagittarius already with a partner, you may be prone to jealousy this month, so try to keep those feelings down and trust the one you love. All Sagittarius, start some meditation practice and self-care this month because you will need it.
Capricorn (Dec. 22 – Jan. 20): You're going to be very busy this month, Capricorn. You're hardworking in school, so this isn't such a surprise that you will have a lot to do this month, but don't let your work steer you away from your love life. Sometimes you let your intelligent mind forget about what your heart wants. Listen to your intuition, and act on that new crush you have. Don't shy away from a new romance because of complications along the way –– those are what makes it so much more exciting.
Aquarius (Jan. 21 – Feb. 18): Bold Aries season encourages you to be upfront with your friends and family. You may need to take a step back from all of your stress and focus on building relationships with the ones you love. The full moon will grant you many realizations or maybe any bad habits that you need to get rid of. But don't forget: The full moon may also grant you realizations about who you should turn your attention to this month. You never know, they could be your next partner.
Pisces (Feb. 19 – March 20): Pisces, his month will help you shake off that pandemic loneliness. You have so many people that love you, so go build those relationships and call them up on the phone or go for a social distanced coffee. As well, make room for new people in your life, because you have one coming your way this month. A meet-cute is sure to happen with the partner of your dreams, don't worry. Overall, a very productive month for Pisces.
Leave a Comment
More from the contributor(s):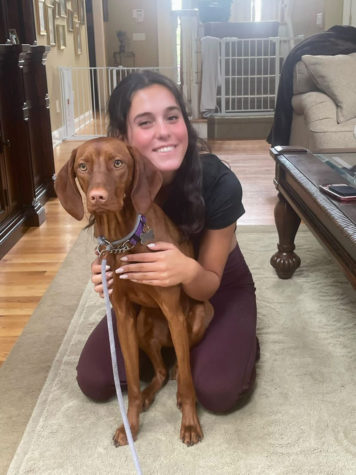 Madison Saks, Opinion Editor
Hills senior Madison Saks is looking forward to being on the Trailblazer staff for her final year. She joined the publication her sophomore year as a staff member and edited for the Opinion section her junior year. This year, Saks is eager to keep editing for the section alongside Anabelle Joukhadarian.

Fun fact: Saks has a rescue dog from Puerto Rico named Goose.