May horoscopes
Read below for your horoscope for the month of May.
Aries (March 21 – April 19): Aries, this month brings Venus, the planet of romance, into your circle, so be ready for new love prospects or even to further a relationship that you already have. Spring is in full swing, so let the warm weather calm your senses and try to stay out of unnecessary drama. May will also bring you that extra confidence boost you need to ask that crush out or tell your partner how you feel. Get ready for an eventful month full of love and growth.
Taurus (April 20 – May 20): Get excited Taurus, because although we can't promise anything, your chart is pretty strong in possessions this month, so you will be receiving something important to you. This could be anything, so keep a lookout. The universe is telling you to start building some much-needed self-confidence. Get out there and feel good about yourself. Everyone else knows what you're worth, so start realizing it too!
Gemini (May 21 – June 20): Gemini, this will be a month of reflection and good fortune. Jupiter falls in your house of fame and fortune, meaning you will have some luck in school this month and your hard work will finally pay off. You may have some advancements in your social life and maybe even find a partner that compliments your crazy, fun personality. Get excited for May, because there's lots of great news coming your way!
Cancer (June 21 – July 22): Cancer, don't let nostalgia take hold of you this month. Whether it be daydreaming about last summer as summer 2021 starts to creep up, or getting stuck on a former partner as another starts to catch your interest. Don't focus on the past if you've got great prospects in the present. With that, take some time this month for a little self-care to get your mindset on your desired path, and maybe look to your friends for advice because they are always there for you.
Leo (July 32 – August 22): This month is a time for amping up your social life and really reaching out, safely of course. Leo, you've been itching to truly start branching out, and this month will give you the confidence to do just that. Also, keep your mind in check for the eclipse at the end of the month to avoid any drama that might come your way. We know you love to be the center of attention, so be careful about which situations you involve yourself in, so that you can stay drama-free and happy.
Virgo (August 23 – September 22): You are one of the most kind-hearted signs, Virgo, so don't let anyone walk all over you. May brings you community, so you won't feel alone this month because you've got a lot of love and new friends coming your way! Look out for a new crush coming your way, because you may not realize that they are perfect for you before it's too late. Mercury, your ruling planet, goes retrograde this month, but your strong will can take it, don't worry. 
Libra (September 23 – October 22): Libra, this month your ruling planet, Venus, will come into play, so be ready to reflect on habits that you no longer need, and start rebuilding. You live a very flirtatious life, so it may be time to let that go and settle down, which is great. It means that that special someone is coming your way, so don't pass up that chance. When Mars goes retrograde at the end of the month, Saturn will help you create some boundaries in areas of your life that need some assistance.
Scorpio (October 23 – November 21): Scorpio, it's time to realize that no one is here to judge you, so go get out there and be your true, happy self! Jupiter is joining you this month, bringing you new pleasures and fun times to look forward to, but don't be your own roadblock to enjoying these experiences. Let your hair down and just have fun! When Mercury goes retrograde, don't let yourself move backward. Keep your eyes on the present, and you will do just fine.
Sagittarius (November 22 – December 21): May is all about love for you, Sagittarius. You've had challenges in the past with relationships, but don't let that stop you from enjoying your new ones. Although, this love isn't only about romance, but also furthering already existing bonds with your family and friends. Quarantine may have forced you to find new ways to communicate with them, so try and let them know that you are still thinking about them. Additionally, let loose, really look into yourself this month, and try some self-care or meditation. 
Capricorn (December 22 – January 20): You will have a lot of new opportunities this month, Capricorn, and although this may scare you, don't let that stop you from seizing the opportunity. When Saturn, your ruling planet, goes into retrograde, you will find it easy to stay in your comfort zone, but try reaching out and connecting with new people (one of them could be a new love interest!). This is a great month for your love life, so if you already have a partner, your bond will become stronger.
Aquarius (January 21 – February 18): May is a month to let yourself go and really tap into your emotions, Aquarius. Give yourself permission to be sensitive and vulnerable, it's okay. It may even open up some doors for you in your love life with a partner that already exists, because they will see this new side of you, and love you even more. Gemini season will open up new social opportunities for you, so don't let them go to waste! Reach out and let that guard down!
Pisces (February 19 – March 20): Pisces, May will bring you closer to your loved ones because they need you this month. Be their backbone, but don't forget to focus on yourself during this stressful time and stay calm. Jupiter moves into your sign towards the end of the month, bringing you lots of good luck! Go achieve that goal, because this is the perfect time to do it. In return for this good luck, though, you need to start setting yourself some social boundaries.
Leave a Comment
More from the contributor(s):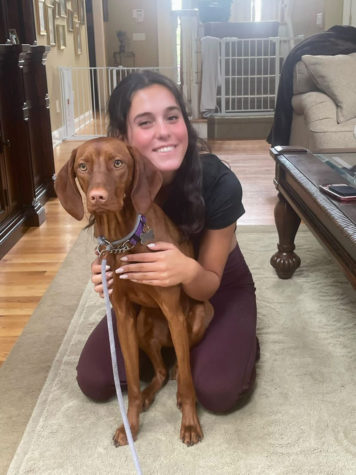 Madison Saks, Opinion Editor
Hills senior Madison Saks is looking forward to being on the Trailblazer staff for her final year. She joined the publication her sophomore year as a staff member and edited for the Opinion section her junior year. This year, Saks is eager to keep editing for the section alongside Anabelle Joukhadarian.

Fun fact: Saks has a rescue dog from Puerto Rico named Goose.