2021 holiday gift guide
With the holiday season coming up, it is time to start purchasing gifts for friends and family. If you have no idea what to get, do not panic! This list provides an array of affordable gifts that all loved ones are sure to enjoy!  
Crystals, Starting at $20 (for a kit)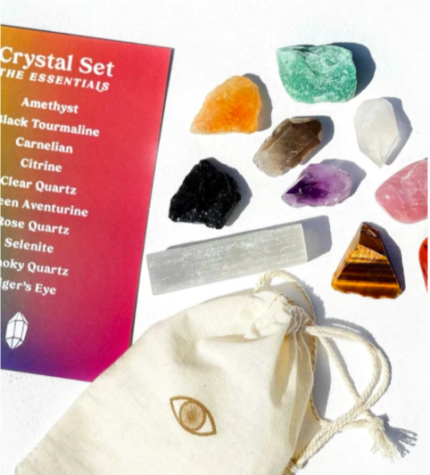 Crystals are a great way to manifest good things into your life. Each individual crystal has a different "power" to help you reach your highest potential. This specific beginner crystal set by CharleyTaylorArt, on etsy.com, includes crystals that are exceptional for people who are new to this increasingly popular trend. If you are looking for a cheaper option, Etsy has other options available for purchase. This gift would be perfect for anyone interested in spirituality.
Image is from CharleyTaylorArt on etsy.com
Subscriptions to Streaming Services, Starting at $10 
Spotify, Apple Music, Netflix, and Hulu are all extremely popular streaming services that require payment for subscriptions and premium services. Spotify Premium, for example, allows users to listen to any song or podcast without being frequently bothered by advertisements. A subscription is a perfect for anyone who uses these services, as well as those who may not have access to them! 
Candles (Price varies)
Candles are an easy go-to gift for anyone. The wide array of aromas that candles offer gives you the freedom to pick a scent depending on the person receiving the gift. Gentle scents, like lavender, are perfect for someone who suffers from stress or anxiety. There are other candles that contain gifts such as jewelry, money, and stones that you are able to retrieve once the wax has melted. This would be perfect for someone in your life with a great deal of patience! Bath & Body Works, Yankee Candle, and Target are all great places to purchase high-quality and affordable candles.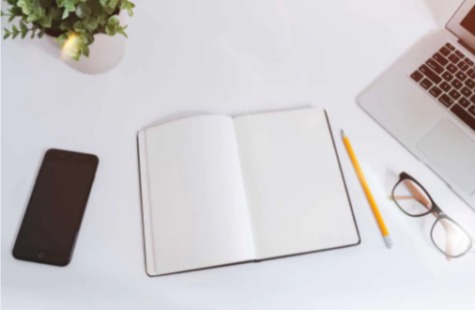 A Journal from $8
Journals are a great way to self-reflect and provide a safe space to talk about anything. You can purchase a blank journal or a journal that offers guiding questions, like the Me Journal (linked above), which is formatted like a questionnaire. This gift is great for introverted friends or anyone who enjoys self-reflection. 
Fidget Rings from $10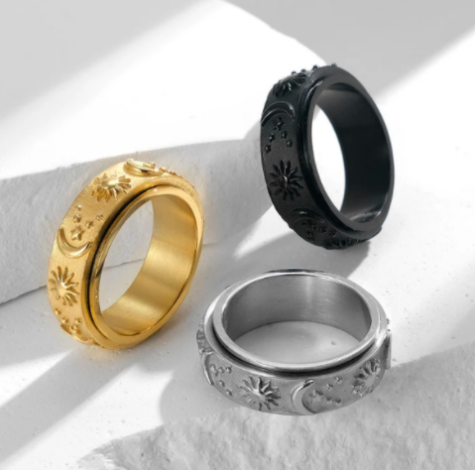 Fidget rings are the perfect gift for anyone who wears jewelry and or enjoys fidget toys. In the image shown above, the rings are beautifully designed and have a rotating piece on them that is able to spin, allowing you to fidget with them! Etsy provides thousands of options for these pieces, each with a different design and different fidgets. This is a great opportunity to support a small business, or to add another piece to your loved one's jewelry collection.
Image from PERIMADE on etsy.com 
Merchandise from Their Favorite Music Artist 
You can never go wrong with buying merchandise, especially if the person you are shopping for is a super fan! You have the option of purchasing fan-made or official merchandise, both being a great way to show your support for your favorite artists!! Artist's merchandise can often be found linked on their social media pages, but can also be found on Google or Amazon as well!
Plants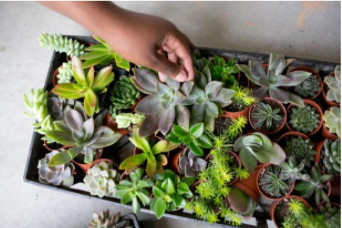 Whether it is fake or real, plants are always a great addition to your home. You can purchase real plants from your local supermarket and Home Depot, or fake plants from places like Target and TJ Maxx. Plants are a great gift to give someone looking for more room decorations, or anyone willing to put in the work to take care of one!
Bed Phone Holder from $10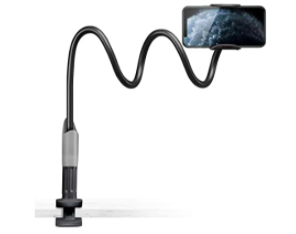 While this gadget may appear to be out of the ordinary, its purpose may be quite useful to those who receive it. This phone holder can be connected to your bed, and the arm can be adjusted to your liking so that you can lay in bed comfortably and stream videos from your phone. This is the perfect gift for your loved ones who enjoy lazy weekend afternoons, or for anyone who enjoys doing some well-deserved relaxing!
Image from SAIJI Store on amazon.com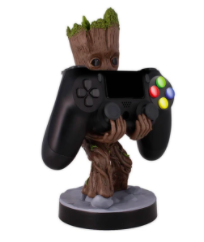 Device/ Controller Holders from $28
Expro.com offers a variety of device and controller holders that resemble characters from different games and television shows. Characters from Star Wars, Call of Duty, Sonic the Hedgehog, and more are all available on their website. Those who enjoy playing on gaming consoles such as XBOX or Playstation, are sure to enjoy this gift!
Image from exgpro.com 
Burrito Blanket from $10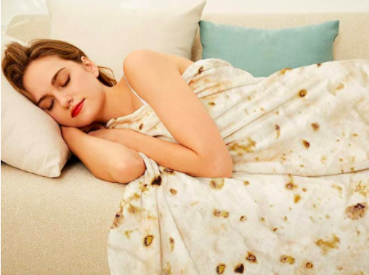 A burrito blanket is both a fun and cozy gift for your loved ones this holiday season. Amazon.com offers a variety of burrito blankets listed on their website, all at different price points. This gift could be great for your friend who loves to stay warm!
Image from LetsFunny Store on amazon.com 
We're Not Really Strangers Card Game from $25
The We're Not Really Strangers card game is designed to empower meaningful connections between friends. The game is structured with three levels of questions and wildcards that spark conversation and allow you to deepen relationships as well as initiate new ones! This gift is great for anyone you want to get to know, or those who enjoy deep conversations!
Image is from POPSUGAR.com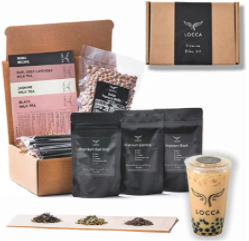 Make-Your-Own Bubble Tea Kit from $10 
Your boba-fanatic friends are sure to love a make-your-own bubble tea kit. Most kits come equipped with a variety of different teas, straws, tapioca pearls, and recipe books. With this creative gift, your friends can make their favorite drink from the comfort of their own home! 
Image from LOCCA Store on amazon.com 
100 Movies Scratch-Off Poster from $20 
This poster provides a great activity for your friends and family! The poster contains the name of 100 movies along with a scratch off box placed above the title! Underneath each scratch off is a symbol that represents something from the movie. After a movie is watched, you scratch off the box to display the symbol! The goal is to have watched all 100 movies, and to have every box scratched off! This is a great gift for your movie-loving friends, or anyone looking to take up a new hobby!
Image from Me Time Joy Store on amazon.com
Leave a Comment