The Importance of Time Management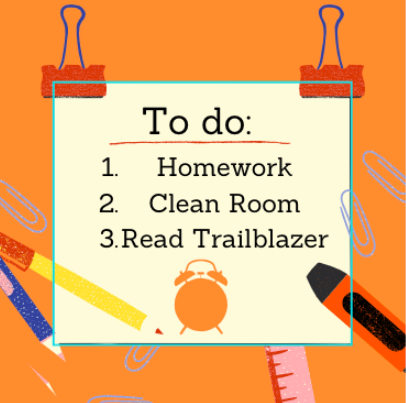 Have you ever found yourself studying for a test or preparing a project at the last minute? The impacts of poor time management/ procrastination are: bad school grades, anxiety, low self- esteem, more frustration, and guilt. The benefits of Time Management are: less stress, more productivity, increased energy, and things are a lot simpler and easier. Do you ever feel like you never have enough time to study or finish your project?  Well, here are some useful tips on how to optimize your time. 
Set Goals. 
Writing down a set goal will convince your own mind to quickly and efficiently complete assignments. Crossing work off of a list will make it more satisfying to complete it quickly. Finishing work quickly will allow more time for sports, jobs, and social outings.
Prioritize. 
Organize your upcoming tasks and make sure the most important ones are given enough time to complete. Setting goals is very important so you can understand what you are trying to achieve. 
Organization is Key. 
If you want to get better at managing your time, you need to organize your upcoming schedule. 
Plan Ahead. 
Take time out to think about all your tests, projects, activities, and everything else before it happens. 
The Pascack Hills Community is also reacting how important time management is. English and Special Education teacher at Hills, Ms. Marcia Forte, says "I think time management is important because you can set and achieve your goals!"    
Efficiency is a great skill to have in order to be productive and on top of your work!  These tips will aid you in the effort to better manage your time. Time is valuable and it should be used wisely!
Sources:
Josel, Leslie. "10 Time Management Strategies for Student Success."
Skills 4 Life Pediatric Occupational Therapy
, 7 Dec. 2020, https://skills4lifeot.com/timemanagementtips/.  
Leave a Comment
More from the contributor(s):