A Look at the Flipped Classroom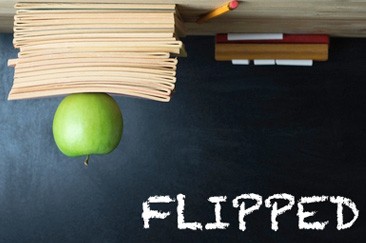 At Pascack Hills High School, every weekday, school is officially over at 2:51 p.m. Yet recently, students of all grades have been attending classes even after the final bell. These classes are taking place not in school but rather at home on computer screens. This phenomenon, known as the "flipped classroom", is changing the way the Pascack Valley school district is tackling the future of education.
What exactly is the flipped classroom anyway? While there is no one concrete answer, the Center for 21st Century Universities at Georgia Tech defined it as an environment that "inverts the traditional structure of a classroom. In a typical traditional classroom, students listen to lectures in class and perform other learning activities, such as solving practice problems, after class." On the other hand, in a flipped classroom, students "listen to pre-recorded video lectures before class and perform other learning activities in class". In essence, students do more critical thinking and problem solving in school than when alone.
Pascack Hills High School has always been on the forefront of innovative education. It is one of the first institutions in the United States to integrate laptops into its curriculum, a controversial choice at the time. For a little more than a decade, a range of laptops (from Dell to MacBook) has been a staple of learning in and out of the classroom. The implementation of this technology has revolutionized the way both teachers and students interact in the district.
Comparatively, the flipped classroom is the next novel concept in learning. To trace its origins, we turned to Ms. Burns, a physics teacher at Hills. She was one of the pioneers of the flipped classroom method. Ms. Burns says, "I got it mostly from someone who works at Pascack Valley," she explained. "He was the one who started teaching physics with it."
Since then, inverted classrooms have become increasingly popular amongst other teachers as well. Mrs. Goodman and Mr. Field, who are geometry and physics teachers respectively, have both adopted the practice.
Mr. Field in particular has been flipping his classroom for two years: "I try to get the students to write down questions after watching each video," he commented. "That way, we are prepared to explain anything in-depth the next day."
This jump in popularity has not come without consequences. The inverted classroom has stirred up controversy due to its usage of pre-recorded videos. Many students prefer the teacher to introduce new concepts for several reasons. Ethan Leffler, a junior at Hills provided some insight on the matter: "I think the videos are helpful for trying to reinforce an idea or even just for a student's personal review," he explained, "but they should not be used for whole lessons."
Ethan went on to share that he favors the traditional classroom as a whole. "Kids who are lazy and procrastinators would feel even less inclined to do the work by themselves," he said. "There is nothing better than a teacher who is in class and ready to help you learn and succeed."
Other students find that the flipped classroom has benefitted their learning experience at Hills. Senior Max Gurman explained, "What makes the flipped classroom work so well is the fact that it gives the student much more face time with the teacher during problem solving. Also, I can refer back to the video lessons as much as I need to in my free time."
The administration at Hills is not forcing any teacher to partake in this new practice. Mr. Field, Mrs. Goodman, and Ms. Burns all pioneered the flipped classroom of their own free will. However, the board has been known to favor trying different concepts in the classroom to improve high school learning. The aforementioned laptop program is a prime example. Principal Glen DeMarrais commented that "while no one is being mandated to do anything specific such as the inverted classroom, as an administrator, I encourage the teachers to try new things."
This healthy attitude is what makes Pascack Hills High School an innovative center of learning even in today's competitive academic atmosphere. Love it or hate it, the flipped classroom is here to stay. Despite the controversy, change is always good. After all, who knows what the next evolutionary step in education will be?
Leave a Comment