D.J. Tanner Goes Back to High School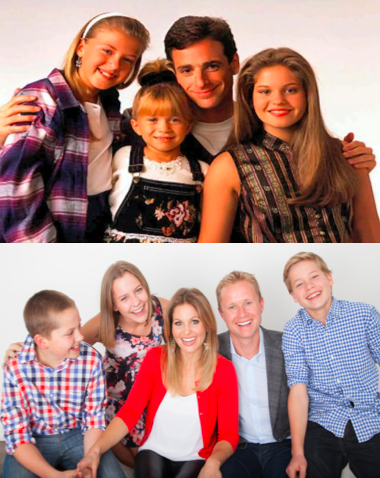 The last episode of "Full House" aired many moons ago, but if you're still craving the scoop on one of its most famous inhabitants, well… "You got it, dude!" I caught up with D.J. Tanner herself, Mrs. Candace Cameron Bure, to find out just how the "Full House" star is doing since moving out over 19 years ago.
Despite this time gap, the new generation of kids growing up on the Tanner clan's stories is as strong as ever. Regarding the fact that the sitcom has yet to be off the air even once in 27 years, Candace says this is a "huge testament to how family-friendly and relevant the show still is." She says, "It's pretty fantastic!"
Fantastic it is.
If it weren't for acting, Candace's interests may have landed her in a place not too far from you and me. She notes she would have likely pursued a career in either fashion or athletics. However, I think she did just fine in becoming the face of an entire generation. But just like fairy tales don't all have happy endings and princesses don't always find their prince, acting is not always as glamorous a job as it may seem. "The worst part," Candace says, "is being under constant scrutiny and finding resolve in the fact that you'll never please everyone."
Sounds kind of like high school, am I right?
Being a TV and movie star has its advantages, of course. "The best parts," she says, "are working on the projects that I am passionate about. The perks of fame like fashion, events and trips are fun, too"… Duh!
Now for the fun stuff… Quiz time. Is Candace a morning person? If you guessed that she follows in D.J.'s footsteps, being woken up by the fam one too many times, you guessed right! As a mother of three, Candace says she kind of "learned to be a morning person." And next time your alarm clock sounds at 7am, don't cringe too much because Candace's fateful bell went off at the ripe time of 4:45… And yes, 4:45 in the morning.
Next question: what is Candace's biggest pet peeve? Let's just say that if you ever get the good fortune of meeting her, be sure not to whistle.
And lastly, had she been able to replace her famous face with that of an "average-Joe's" for a day during her "Full House" days, what would Candace have done? One may say stand in front of a crowd of people and bask in their own insignificance as people walk right past them. Others may say make a friend to know for sure that their friendship comes from a genuine place. Candace, however, desires only the simple things in life. "I would have worked in retail or as a waitress," she says. "I've always wanted the experience without people being freaked out it was me helping them!" Well, I'm sure plenty of you readers out there would be more than happy to hand a shift or two over for Candace to try out.
Now working on the movie, "Mom's Blind Date" which will air in the spring of next year, completing her third book, and a mom to three kids ages 12, 14 and 16, I think it's safe to say that the D.J. Tanner we know and love has grown up and, just like her show, is doing better than ever.
Leave a Comment