Tricks to Prevent Senioritis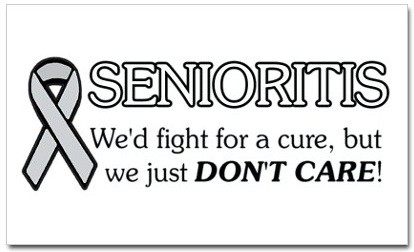 Midterms have ended, but it is not quite the end of the school year yet. There are just a few months left, and for seniors, these last few months are the most fun of them all. We still have spring break, the fashion show, prom, awards ceremonies, and white water rafting. There is still the stress, however, of college acceptances and decisions, AP tests, and teachers still piling on homework and tests. Seniors, though, do not want to think about all the work in the future. All they can think of is summer and dozing off in class. Their attention span is dwindling. They do not find the need to do homework anymore. If you can relate to this, you may have senioritis.
Senioritis is a common term used when describing second-semester seniors. The symptoms include daydreaming in class, thinking about how much you want to get out of high school, and not wanting to do homework. Don't worry. It is common. With every disease, however, there are side effects. These include declining grades and GPAs, bad test scores, angry parents and teachers, and the worst cases, colleges taking back your acceptances. Here is a list of tips and tricks to prevent this "disease" without ruining the rest of senior year.
1. Manage your time after school
You may sigh at this trick, but it is the most important way to get your work ethic back to how it was in the beginning of freshman year. Recently, you have found yourself watching movies or spending time on your phone when you come home from school. Admit it; we all do everything we can to avoid doing homework, but that does not make it go away. One thing to do is to try to manage time and make a homework schedule. After school, do an hour of homework, and then treat yourself to an episode of "Parks and Recreation." Go back to your desk, do another hour of homework, and then indulge yourself in 45 minutes of video games. As long as you go back to homework frequently, you can take time in between to do the fun things you want. Have a desire to go to the baseball game? Do two hours of homework to compensate for the two hours of time you will be outside cheering on your peers.
2. Make study groups for upcoming tests
Have a big test in calculus coming up? Form study groups to make studying less painful. Studying by yourself is boring, and you could often doze off. Spending time with your friends is not boring. As long as you actually do work in the study groups, this method is great. Find someone in your grade who is not plagued by Senioritis, or at least not as badly as you, and have your own study session. Plus, you get to eat your friends' snacks if you spend time at their houses!
3. Have fun on the weekends
Mondays are always rough, and all you want is for Friday nights to come as quickly as they can. Come up with a reward system. Do your homework all week, and then on the weekends, you can reward yourself with whatever you want! You will have so much fun at parties or hangouts if you do all the work you should have completed the week before.
4. Focus in class
It is so hard to focus in class when all you can think about is going to your number one school next year. Still, there are ways you can at least pay attention. Eating different foods in class may help improve your focus. If all you can think about is hunger, bring a snack with you every day. If you cannot remember everything you learn, snack on gum, mints, or even dark chocolate. Those are proven to help your memory and focus throughout the day. They can also help focusing during tests. Also, if all you can do is stare into space while the teacher is talking, take notes. Taking notes helps process information and can help pick out which information is the most important.
5. Have fun and be mindful!
This is a really cliché trick, but it is your senior year. There are so many things to look forward to this year, and you should make the most of it. Wanting to get out of school ASAP can cause Senioritis. Instead of always thinking about summer and going to school next fall, think about the fun things that are happening right now. There are so many amazing activities planned for seniors in the spring. In college, you will not get to see your old friends as often, so you should seize the day with them now to not regret it later!
Leave a Comment