Top 10 Things To Do in New York City This Summer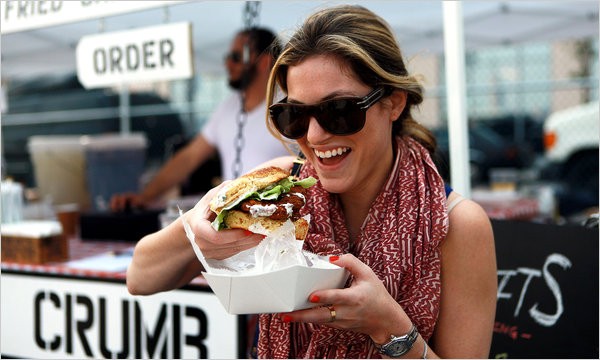 Smorgasborg– If you're a foodie, Smorgasborg is the perfect summer food festival for you. Every Saturday and Sunday from 11 a.m.-6 p.m. from now to November, Smorgasborg is open with more than 100 local food vendors selling different delicious and unique foods. On Saturdays, Smorgasborg takes place in Williamsburg, Brooklyn. On Sundays, it takes place in Brooklyn Bridge Park. Go see for yourself what all the rage is about!
HBO Bryant Park Summer Film Festival– Every Monday from 5 -11 p.m., starting on June 22 and ending on August 24, free movies will be playing in the beautiful and scenic Bryant Park. Get a blanket, smell the roses, and enjoy a relaxing movie night surrounded by your friends and hundreds of New Yorkers.
Summer Street– Join New Yorkers as seven miles of city streets are closed off from Brooklyn Bridge to Central Park on August 2, 9, and 16 from 7 a.m. – 1 p.m. Locals and tourists are able to enjoy rock climbing, zip lining, bike rentals, and more. The best part? Everything is free!
Bastille Day: Brooklyn Version– Celebrate Bastille Day on July 14 in Boerum Hill, Brooklyn as if you are in France! From 12-8 pm., enjoy French food, drinks, and activities. Don't be afraid to try out the famous French game of Petanque, too. It's just like being in France, except only an hour away!
Bryant Park Yoga– If you are a fan of yoga, this is the perfect way to incorporate it into your weekly schedule this summer. Every Tuesday (10-11 a.m.) and Thursday (6-7 p.m.), starting from now to September 24, a yoga class filled with hundreds of New Yorkers in Bryant Park is held. Invite your closest friends, and get to the lawn as soon as possible because it does fill up quickly with eager yoga-goers, just like you.
Coney Island– If you are looking for an exciting amusement park a little closer than Disney World, Coney Island is the place for you. Located in Brooklyn, Coney Island offers an amusement park, an aquarium, an arcade, a boardwalk, a rink, a circus and great food. It is open everyday from 12-6 p.m. Fireworks shoot off at 9:30 p.m. every Friday night.
Macy's Fourth of July Fireworks– It would not be the Fourth of July in New York City without the annual Macy's fireworks show. The iconic display is set off over the East River from the Brooklyn Bridge to the barges in the water. The best viewing spots are from Brooklyn Bridge Park to the Brooklyn Heights Promenade and along the east side of Lower Manhattan. In order to snag the best spot, arrive around 5 p.m., although the show does not start until 9 p.m.
The High Line– A walk along The High Line is a must for any NYC visitor, but this summer offers free activities, as well. On Tuesday nights, high-powered telescopes are set up between West 13th and 14th streets for stargazing, while selected Wednesdays feature music and dancing at the Chelsea Market Passage. You can also take a guided nature tour of the walkway.
The Governors Ball Music Festival– If you like music, New York City will not disappoint. The Governor's Ball is located at Randall's Island Park and goes from June 5-7. The three-day festival will have Drake, the Black Keys, Lana Del Rey, Florence and the Machines, Flume and many more. Tickets start at $135.
New York Botanical Gardens– A great place to take in nature can actually be found in the Bronx. The Botanical Garden has 14 different gardens and is 250 acres. It is open every day from 10 a.m.- 6 p.m. Tickets are $18.
Leave a Comment