Editor's Note: This is an opinion editorial piece.
Host Chris Rock led dozens of celebrities—minus a few—as they took the stage for last week's 88th Academy Awards. Where were the missing Spike Lee, Will Smith and Jada Pinkett Smith? Boycotting the Academy's second consecutive display of an undeniable marginalization of minorities amongst nominees. Rock, however, stood atop the stage candidly protesting such injustices. Rock has unforgivingly done his job: getting the public to talk about an issue so often hidden in the shadows, even if it is his own scrutiny that sparks the conversation. And for that, Chris Rock deserves a standing "O."
Since the Academy Awards began 87 years ago, an underwhelming total of 14 minority actors and actresses have won Oscars. Despite comprising 40% of the US population, minorities make up only 12.5% of all Oscar nominees (US Census Bureau). As for the ceremonies taking place the past two years? The percentage of minority nominations has plummeted to 0%—and the nation is not having it.
The lack of minority representation at the ceremony has dubbed the social media hashtag #OscarsSoWhite. Despite similar issues with representation in years' past, the 2016 Oscars shined a brighter spotlight regarding the Academy's tendency to nominate "white." Perhaps this year's controversy was heightened because of social media's increasing accessibility. Or, perhaps we, as a nation, are becoming more aware and vulnerable to these issues as a whole. As a result, great pressure was placed on Rock to handle his hosting position wisely. While opinions of Rock's performance vary, people are talking and that is the point.
"I came in very much wanting [Rock] to teach his audience some lessons," said Shaun King of New York Daily News. Instead, the audience seemed visibly uncomfortable following some of Rock's comments. While critics blame this on Rock's "insensitivity" and "tactlessness," I equate this reaction to a reaction of pure nature. For the first time, we witnessed a big name take the stage during a Prime Time television event, grab the bull by the horns and stomp on a problem we've been so used to tip-toeing around. If our jaws were not locked in a slightly open position come time for the show's end, Rock would not have utilized his position wisely.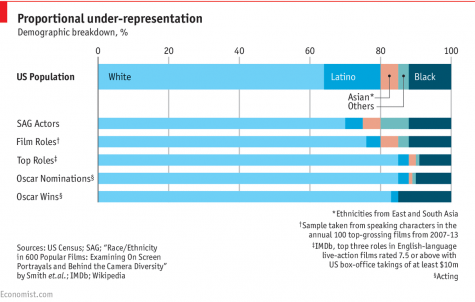 Some argue the show's unrelenting discussion of racial injustices takes away from the point of the Oscars as a whole—to celebrate great film. While critics will say that the discussion regarding the lack of diversity detracts from the winners' celebration and acknowledgement, I will argue that this is just another instance of the white man playing victim in a situation that is utterly and entirely not about the white man—at all.
Dr. Martin Luther King said, "Injustice anywhere is a threat to justice everywhere." Events such as the Academy Awards are not just award shows—they are microcosms of the world. The lack of representation at the 2016 Oscars extends so much further than the ballroom in which the ceremony was held. So, we can choose to focus on the jokes that went too far, or we can focus on their underlying meanings. We can harp on the toes on which Rock stepped, or we can use his example as a means to finally take a step forward in a society that is afraid to walk.
For an alternative view, see Micaela Mongelli's article: Did Chris Rock the Stage?