The Battle for LGBT Rights is Far From Over
The following is an opinion-editorial.
Since the Supreme Court ruled in favor of legalizing same-sex marriage nation-wide in 2015, you've probably heard at least one person say "It's 2016 now" on the topic of civil rights, specifically the rights of Lesbian, Gay, Bisexual, and Transgender people. True – it is 2016 – but the battle to reach equality for the LGBT community locally, nationally, and globally is one not yet won.
On April 4th, the Pascack Valley Regional High School District reintroduced a transgender policy that would essentially protect any transgender students by permitting such students to use restrooms or locker rooms associated with their (consistently expressed) gender identity. Other accommodations are also included in the proposed policy, such as the use of pronouns that correspond with the student's gender identity.
Pascack Valley Regional High School District bases their proposed policies on legal authorities such as the First Amendment of the U.S. Constitution and multiple New Jersey laws and statues prohibiting discrimination on the basis of gender, gender identity, gender expression, or sexual orientation.
The Liberty Counsel, a Florida-based evangelical legal group, has threatened legal action against PVRHSD for the proposed policy, citing what they consider a policy that would violate privacy and other "cherished liberties." This same tax-exempt legal group also defended Kentucky County Clerk Kim Davis after she refused to issue same-sex marriage licenses, part of her job as an elected official, due to her religious beliefs.
Liberty Counsel's website states marriage is a "bond between one man and one woman" and that "No civil institution, including any court, has authority to redefine marriage any more than it can redefine gravity." This thinly veiled bigotry and advocacy against the rights of LGBT people often appeals to people because of its deceptive use of religion.
The Liberty Counsel is not unique either: anti-LGBT rights groups, often using religion as a vessel to preach anti-LGBT messages, maintain support across the nation. Groups such as the American Center for Law and Justice, Jews Offering New Alternatives to Homosexuality, or American Family Association all share similar views and goals to the Liberty Counsel: prevent and reverse the progress of civil rights for LGBT people in the name of "religious liberty".
Many of these groups, including the Liberty Counsel, tend to promote reparative (conversion) therapy or other forms of "treatment" for homosexuality. These false, discredited, and dangerous practices are designed to attempt to change one's sexuality through religion or spirituality.
These practices have been condemned by medical and mental health organizations for decades, and many states (including New Jersey) have laws that ban conversion therapy. Governor Chris Christie of New Jersey stated, "The American Psychological Association has found that efforts to change sexual orientation can pose critical health risks" and that therapies aimed at changing sexualities have been linked to depression, substance abuse, social withdrawal, decreased self-esteem, and suicide, especially among minors.
Hate Groups are on the Rise in the United States
The Southern Poverty Law Center saw a 14% rise in hate groups across the United States in 2015, with the number rising from 784 in the year prior to 892 in 2015. The SPLC counted 48 hate groups that primarily focused on LGBT groups in 2015, including the Liberty Counsel. These 48 groups are simply the beginning and do not account for the almost 850 other hate groups in the United States (21 of which are in New Jersey).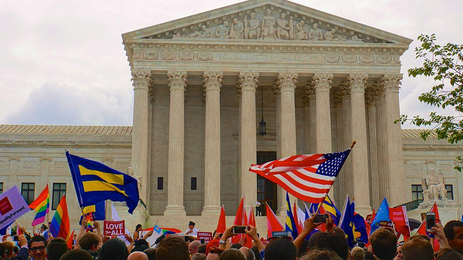 Challenges to LGBT rights, often propelled by these hate groups, have been rising nation-wide, even after the Supreme Court's ruling on same-sex marriage. On March 23, North Carolina passed a law that prevented counties, cities, or towns within the state to create rules against LGBT discrimination and requires a transgender person to use the bathroom corresponding with their biological gender (opposite of their gender identity). On April 5, Mississippi Governor Phil Bryant signed a law into effect that would permit businesses to deny service to LGBT people on religious grounds.
Human rights advocates and companies alike have criticized these laws. On April 5, PayPal announced it would cancel plans for a $3.6 million dollar operations center in North Carolina due to the state law. Equality NC and the Human Rights Campaign issued a letter for the laws repeal, which was signed by 120 CEOs, including those of Bank of America, Wells Fargo, and Facebook.
The progress of LGBT rights in the United States often makes people forgot the difficulties of LGBT people across the world, especially beyond developed western nations.
LGBT Rights Face Significant Challenges Internationally
It could be said that the situation for LGBT people within most of the United States and many western countries are significantly better than for those in other parts of the world, especially eastern Europe, Africa and the Middle East. There are 7 countries that have laws punishing homosexuality with death, and stoning is used as the method of execution for homosexuality in several countries such as Mauritania, Yemen, and Saudi Arabia.
Fifty-six countries have homosexuality as a crime punishable by prison time ranging from several days to a life sentence. Certain countries such as Uganda punish homosexuality with an immediate life sentence, while other countries like Malaysia punish with up to 20 years in prison, whipping, and fines. In countries such as Lithuania and Russia, it is illegal to simply openly support or even have a discussion of LGBT rights. Even in countries that do not have laws against supporting LGBT rights, supporters can often face criticism, harassment, or violence for their human rights advocacy.
Government policy has the ability to eventually curb public opinion, and public opinion has the ability to curb government policy. Society and its laws move together, and it is easy to forget that the battle for the rights of Lesbian, Gay, Bisexual, and Transgender people is an ongoing battle on a local to international level – even in 2016.
To view the Southern Poverty Law Center's map of hate groups across the United States, click here: https://www.splcenter.org/hate-map
To view the Human Rights Watch's interactive map of LGBT Rights around the world, click here.
Leave a Comment
More from the contributor(s):
Kyle Hammalian, Current Events Editor
Kyle Hammalian is a senior who is going on his third year with The Trailblazer. Kyle is the editor for the Current Events section. Kyle hopes to create content on complex issues that are relevant and understandable for The Trailblazer's audience.