Nosey's Law: Ending Elephant Abuse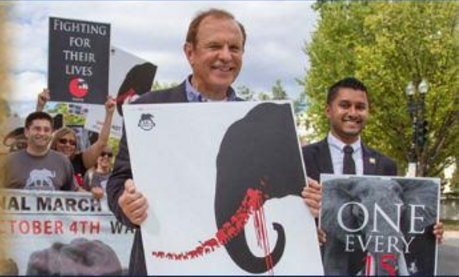 This following is an opinion-editorial.
Millions of people across the United States visit the circus each year when it comes to their neighborhood, anxious to see the exciting animal acts featuring lions, tigers and elephants doing all kinds of tricks.
What most don't realize is that circus animals are held captive under the most horrible, cruel conditions imaginable, especially the elephants.  As the circus travels from town to town, the elephants are strictly confined, chained up in small enclosures for long stretches of time, barely able to move around.  When they arrive at each destination, the suffering continues, as their trainers and handlers beat the defenseless elephants with metal hooks, denying them food and water in order to get them to perform for an audience.  
Elephants have a high level of intelligence and strong social bonds, particularly between a mother elephant and her baby. Baby elephants in the wild aren't weaned from their mothers until they are 5 to 10 years old. In captivity, circus elephants are often forced to separate from their mothers once they reach 18 to 24 months of age.
According to ElephantsDC.org, an animal rights group dedicated to protecting elephants, baby elephants are tortured for several hours each day, gouged with hooks and jolted with electric prods until they become submissive to their trainers.  Once that happens, they start traveling with the circus and are kept in chains for 96 percent of their lives, never able to roam free like wild elephants do.

One legislator in New Jersey is fighting to change all of that: Sen. Raymond Lesniak, a longtime animal rights advocate and champion for elephant welfare, introduced a bill this year that will ban elephants from being used in entertainment acts in the State of New Jersey.  Known as "Nosey's Law,"; S2508 is a bill named after an elephant in Florida that has life-threatening health issues, including tuberculosis and severe arthritis, but is still being forced to travel and perform in shows. Animal welfare advocates all across the country have been trying to save Nosey, and she has been called "the Saddest Elephant in the World."  

Sen. Lesniak says that he wants to stop the abuse of elephants like Nosey and stand up for them by passing a law that prohibits their use in entertainment acts. "Elephants should not be a part of our amusement because they have to be held in captivity. While they're not performing, they're in solitary confinement," he explains. In October, Nosey's Law passed the NJ Senate with strong bipartisan support, and is now waiting to be heard and voted on in the NJ Assembly.   
Senator Lesniak's online petition can be found at http://raymondlesniak.com/noseyslaw/
New Jersey residents can also contact Assembly representatives for Montvale and Woodcliff Lake, Assemblywoman Holly Schepisi and Assemblyman Bob Auth via email at [email protected] and [email protected]). Others are also writing to Governor Chris Christie through his website. Urge him to sign Nosey's Law when it gets to his desk.