The Women's Marches' Significance to the Pascack Hills Community
By The Trailblazer Editorial Staff
Editor's Note: The following is an opinion-editorial.
On Jan. 21, nearly five million men and women from all racial demographics and socioeconomic statuses gathered to advocate for the rights of women just hours after the inauguration of 45th President of the United States, Donald Trump. Following Trump's victory over Hillary Clinton in the Presidential Election, these protests were heavily inspired by Trump's misogynistic rhetoric.
The men and women who chose to march joined forces in support of women's rights; however other topics protested by marchers included LGBTQ rights, climate change awareness, and freedom of religion.
The Women's Marches all across the country impacted the Pascack Hills community in a positive way, as it should for the entire country and beyond. Students are becoming increasingly vocal on these issues, and many used this past week's women's marches to express their encouraging beliefs.
Junior Emma Lustigman, pictured above, took to the streets of New York to express her thoughts. Lustigman often advocates for just rights for all genders, races, and religions on social media.
"I marched because I think it's important to show that the government that this is a republic, not a Monarchy, and that the government officials, have been voted for by us. Female empowerment and equality is something that is very important to me as we have been fighting for so long – since the twenties – to be treated equal and yet almost 100 years later we are still not."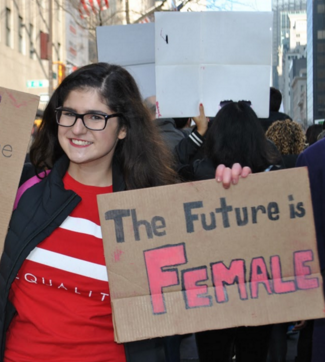 Lustigman is not the only one who feels this way. Though unable to attend the march, senior Danielle Samitt said, "Although I was not able to attend, it was was wonderful to see women banded together during such a divided time."
Even though girl power dominates the Women's Marches, the male population at Pascack Hills also holds positive and strong opinions regarding this movement.
Sophomore Nate Barcus said, "I think the marches were a great way of standing up for what people believe in. It was a chance for people to get out there and join each other in support, and I believe that [the marches] sent a message."  
Students weren't the only ones making their voices heard. Over a dozen faculty members at Pascack Hills, past and present, attended the march in Washington D.C. along with an estimated one million other citizens.
One of these was librarian Dee Goldman, who, despite not marching with these teachers, felt very strongly about marching.
Goldman initially reserved her tickets for the inauguration six months in advance, under the impression that Clinton would have won the election. However, following the results of the election and the widespread news of the women's marches, Goldman decided to get involved by attending the march in Washington D.C..
"I marched to protect the rights of women," says Goldman, who stayed with her sister who lives on Pennsylvania Avenue. Goldman continued in great detail by describing what the scene of the march was like, specifically how diverse the crowd was, with men, women, old, and young all uniting together to send a message. "This wasn't a march against [Donald] Trump, but a march to ensure that the rights that women worked so hard for would not be taken away."
Pascack Hills graduates continue to make the school proud. Armed with a poster that read "Empowered Women Empower Women," Olivia Bulzomi, Class of 2016 alumna, took her passion for equality to the Women's March in New York City.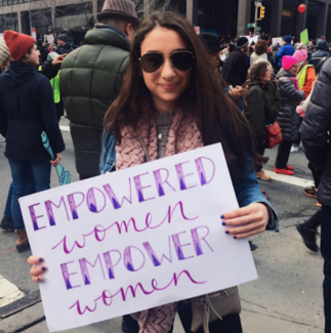 Bulzomi said, "The Women's March is extremely significant because it addresses many of the issues women in the US, as well as around the world, have to deal with everyday. Each person that marched had different issues that they were marching for, making the event more overarching and meaningful."
Some believe that the Women's Marches are simply anti-Trump protests, as they occurred around the time of his inauguration. However, the marches are much more. Women did not come together to resist the new president; instead, Trump's sexist comments fueled these powerful women to speak out against their discriminatory treatment and rights.    
Bulzomi said, "While too many of us it may seem that women are equal to men, the reality is that women struggle everyday to be seen and treated the same as their male counterparts. The only way the treatment of women will become more just is if people stand together in solidarity (or in marches) to express that the health and wellbeing of women is not only imperative for personal security, but for the prosperity of the nation as a whole. This doesn't just include 'women' as a general demographic, but also women of different religions, classes, races and ethnicities, because even within the population of women, not everyone is treated the same."
"The more we as a country come to recognize women's rights as issues that affect us all, the stronger we will all be."  
The Pascack Hills population see these Women's Marches as a movement that can change the way in which women are viewed in this world, for the better. We are not anti-Trump, but we are anti-misogyny.