iPhone Intolerance: Reasons to Despise Apple's Newest Products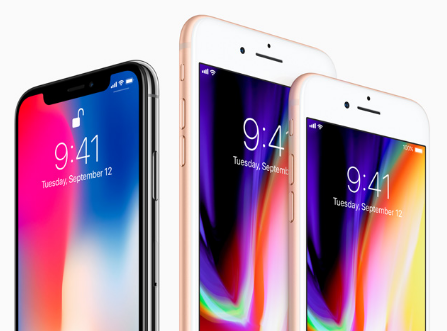 Open your minds and wallets, because Apple is releasing two brand new iPhones: the iPhone8 and the iPhoneX. The iPhone 8 is already available, for the price of $699 ($799 for the plus); the iPhone X, also known as the iPhone 10 (apparently, the number nine doesn't deserve justice in the technological world) and costs $999, won't be ready for preorder until October 27 and is set to be fully released in stores November 3.
Besides the ridiculous price, there are plenty of other problems with the two new iPhones.
While the iPhone 8 is rather similar to the seven, Apple removed some color options that are rather aesthetically pleasing; the iPhone 8 only offers silver, gold, and space gray (rose gold, black, and jet black are no longer options). Meanwhile, the iPhone X, only comes in space gray and silver.
Not only does Apple forget the number 9, but it also forget what its competition, Samsung and Android's phones look like too.
"With the iPhone X, it looks so much like an Android that it ruins the aesthetic apple has going for the company," says Pascack Hills student, Sofia Papadopoulos. "Which is actually sad, knowing that so many people stick with Apple purely for looks."
Apple is known for their simple design, but the iPhone X may be too simple due to the front consisting of nothing but screen. Fun fact: the concept of "simply screen" on the front has been done before.
"I think that the iPhone 8 and X are really cool and I would consider getting one," states sophomore Tiffany Georges. "But both phones don't have a headphone jack and they [wireless headphones] cost a lot of money."
Instead of just giving Apple users more desirable upgrades such as unlimited battery and bringing back the headphone jack, they decide make unfavorable changes instead. For example, both new phones have glass on both sides, which means owners of these phones can shatter it twice and pay double the money for repairs. Also, iPhone X users now have the choice of face ID, which makes it so much easier to hack into someone's phone; rather than trying to place your family member's finger on the home button and not waking them, you can just align it with their sleeping face. Not to mention, the face ID does seem a little creepy and can be seen as an invasion of privacy by conspiracy theorists.
Despite several disadvantages, plenty of people are excitedly awaiting the arrival of these new phones. It's also possible that some of the qualities that are seen as disadvantages could end up being really beneficial. Certain qualities such as the introduction of wireless charging for the iPhone X and 8 are already drawing in buyers. Furthermore, Apple describes the new camera as "even better," the glass as "more durable than ever," and the screens as "improved with super retina displays."
"I'm so excited for the iPhone 8 and the iPhone X," says Alexa Tarabocchia. "I love seeing what's different and new compared to the old iPhones." So, the final ruling is yet to be seen.
Leave a Comment
More from the contributor(s):