More Than a Kneel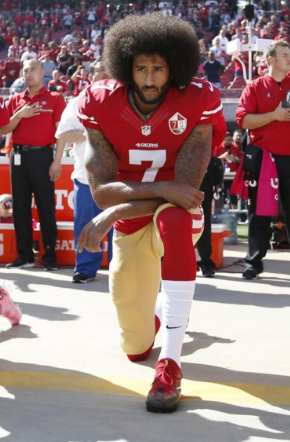 Sundays used to be just a day to look forward to football. Millions of silent fans stood with a hand to their chest as the national anthem was sung during a particular NFL Sunday game. The National Anthem has always been a time of remembrance and recognition of our history and its struggles. Despite these ideals, there was one famous football star who did not stand – San Francisco 49er Colin Kaepernick chose to kneel.
Racism is nothing new in this country. From police brutality to white supremacy, it is in everyday life and all around us. It began as one player's desire, on the corner of the bench, to call out a major problem. This later grew to become a protest throughout the entire football association as players from various teams kneeled during the National Anthem.
Spectators, coaches, and even players have different viewpoints on this message.
"My thoughts are that every person has a right to voice their opinion. That's every citizen's right in America. Whether or not I agree with them doesn't really matter too much in the grand scheme of things. I have opinions and do things that others may disagree with. Does it mean I'm wrong? Not at all," says Pascack Hills football coach, Evan Lampert.
Yet, our president, Donald Trump, has a rather different opinion, as he states, " Fire" players who disrespect the anthem and say "Get that son of a b—- off the field right now."
Due to protests in Charlottesville in response to Hurricane Harvey, extreme tension and struggles has piled up within the communities of our country. Already troubled by the various events in the past year, from politics to natural disasters, the United States needs nothing but support and strength during this period as we have had in the past to overcome our obstacles. President Trump did not take the kneel as a protest but a negative action, and rather blatant, disrespect to our flag and country.  
However, this kneel is an act much bigger than football. This kneel is a stand against racism and oppression. It is not only a symbol but a protest.
As the man who began the protest, Kaepernick says, "I am not going to stand up to show pride in a flag for a country that oppresses black people and people of color."
Leave a Comment
More from the contributor(s):