Paying the Price on Black Friday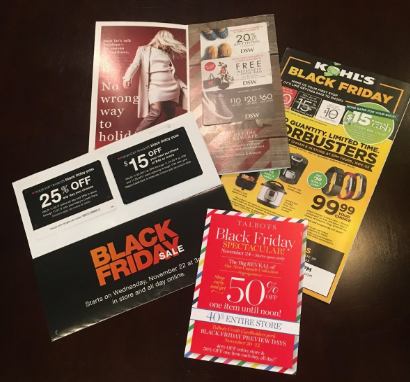 Lilah Ashtyani
November 22, 2017
Many people see Thanksgiving as a day to spend time with family, eat great food, and be thankful for all we have. However, some see it as a day to prepare for a fight – a fight to grab the best deals for the holiday season. Known for being a "shopping holiday" since 1952, people line up in front of stores hours before opening to guarantee that they will be the first ones to get the best deals.
People choosing to wait outside in the cold for hours in order to ravage a store at five in the morning just doesn't sound worth it to me. I feel that these people are exerting too much work to get a product at a discount. Instead of staying home and eating tasty stuffing and turkey, these bargain hunters would rather sit in a tent on the sidewalk for a cheaper Fitbit. As a result, the employees of these shops also have to wake up early and risk their safety as they work during this holiday.
Every year, there are always people talking about the danger of the chaos caused by these sales. For example, in New Jersey last year, two people were shot and one of them died at the Hamilton Mall on Black Friday. Between 2006 and 2016 there have been 10 total deaths due to this event.
"Why does it exist? Is a broken leg worth fifty dollars off a TV?" states Matthew Gheduzzi, aware of the notorious injuries following the holiday.
Some say it can be fun if you go to the right stores at the right time, but the majority of the crowd knows that they are there for a fight. This day has people reverting back to their primitive state to fight for presents, increasing the fear of getting trampled, punched, or worse.
Furthermore, Black Friday has safer alternatives now that there is Cyber Monday. There is no need to leave the comfort of your house for discounts, therefore, decreasing the chances of being hurt in the midst of a crowded store. Yet, if people need to see their product before buying it, do what I did last year and go to the mall on the Saturday after Black Friday. The shops are empty, but the same deals and discounts are left without the hassle to fight someone for a dirt cheap gift.
Sophomore Clancy Chichetti says, "I don't see the point in waiting in long lines and getting trampled just to save a few dollars on Christmas gifts."
So, before waking up this Black Friday and hefting yourself to a congested store, and fight through measly savings, think about this: are these deals really worth it? Instead, try considering spending more time with friends and family and enjoying the holiday break. After all, that truly is the best gift someone can give.