How to stay alive during the holiday time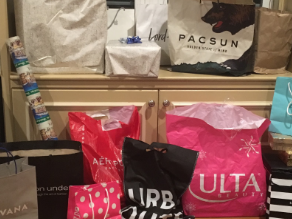 Nothing is more risky than shopping, gift wrapping, and giving. This is simply because, one wrong move at a shopping mall – stepping on a stranger's foot, bumping into them – can cause an embarrassing, awkward situation. One wrong move and the masterpiece of pristine, neat wrapping paper can rip or wrinkle into a thousand pieces. One bad gift idea and the giftee says "thanks," with a strange voice crack or a hint of disappointment. The truth is, while the holidays are a time of giving and celebrating, they can also be a recipe for disaster.
A golden rule of the holidays is to avoid the mall at all costs. Never make the fatal mistake of leaving lists for the last minute. Never. The fact is, way too many people are in the same boat as "delaying the dreaded holiday shopping session," and as a result, every single shopping center is overcrowded. There's nothing more frustrating than waiting in a line where everyone has coupons that take forever to scan, and there are more registers than cashiers. Thoughts like, "Do I really like this person this much? To wait in this thirty minute line?" are commonly begin to make their appearances as time drags on.  
Pascack Hills student Alexa Tarabocchia explains that when you go to the mall during the holiday times, you "can't move an inch without bumping into someone."
Furthermore, sophomore Maria Florakis explains that when she went to the mall on December 18, the mall was "crazy packed." In fact, she had to wait on line for twenty minutes just to get lotion at Bath and Body Works.
Over the weekend, I myself made an unpleasant trip to Paramus Park, a mall that I have never seen busy until last Saturday. The mall is tiny compared to many others and was rather calm on Black Friday, a holiday notorious for destroying all tranquility at any shopping center. Yet this time, lines took forever, there were no places to sit, and it was even difficult to keep track of my friends I went with. Also, I felt even more uncomfortable since there was so many people, and I refused to let my any of my belongings out of sight.
While it's unrealistic to order items online in time for the holidays by now, I wish luck to anyone courageous soul who goes to a shopping center between now and December 25.
Meanwhile, another holiday danger is the art of gift giving. While everyone appreciates others thinking of them and purchasing them a product, sometimes, not everything goes as planned. For example, kids will eventually realize that their mothers never wear the necklace they got her at the school's holiday boutique.
"Sometimes, giving gifts is risky," said student Tiffany Georges. "You don't know if that person is going to like the gift you give them, if they end up using it, or if the money you spend on it is going to waste."
Seeing someone's fake smile as they open a gift they not-so-secretly hate is a horrible feeling. It's beneficial for the gifter to figure out specifically what the giftee wants, or to at least think about the giftees' style and taste. It's the thought that counts, but sometimes that means that it's crucial to think about what the other person wants, because a bad gift just isn't worth it. Basically, it is recommended to avoid giving clothing and accessories- stick to the list.
"Sometimes, you might not have a receipt for something, and if you give somebody a gift that doesn't have a receipt, you just better hope they like it," Maria Florakis says. "If it's clothes, for example, you just have to hope that it fits them, they like it, and that they don't have a replica of that one. It comes with many risks."
Finally, while holiday dinners are typically wonderful, sometimes the guests lack quality. While hard to admit at times, it's wrong to run from family, despite how irritating some members could be, and straight out ignoring or avoiding them is rude. The fact is, it's important at least attempt to put all negativity aside and not let pesky family members ruin what would otherwise be a fun, jolly time.
Tarabocchia advises people with crazy family members to just keep the conversation concise, which admittedly, seems like the kindest option. On the other hand, Florakis has a different point of view on her own "annoying" family members.
"Since my family is Greek, everybody is crazy. If we hang out at Christmas or Thanksgiving, everybody is ridiculously loud. There's no way to really deal with them because I'm just the same way, and, they are family."
As Christmas turns the corner, deal with those not-so-rad relatives, be both gracious and cautious with gift giving, and try to avoid shopping centers. The holidays is a time when people should be bombarded with joy and cheer, not chaos and tears.