Gun Control is No Longer a Debate – It is a Necessity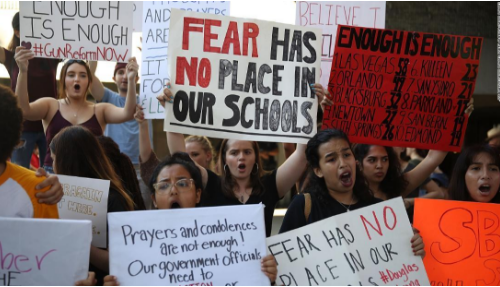 Sarah Winston
February 21, 2018
On Wednesday, February 14, a 19-year-old former student entered Marjory Stoneman Douglas High School in Parkland, Florida, and opened fire on students. The weapon he used was an AR-15 rifle, a semi-automatic assault weapon.
The shooter, Nicolas Cruz, was expelled from the high school last year for behavioral and disciplinary issues. Before he was expelled, an email from the school's administration was sent to students and teachers, warning that Cruz had been threatening students with violence, and that he was no longer allowed on campus wearing a backpack.
Over a seven year period, the police were called to Cruz's home 39 times, the nature of the emergencies including "mentally-ill person, child/elderly abuse," and "domestic disturbance." In addition, on January 5th, someone close to Cruz called in an anonymous tip to the FBI to express concerns about Cruz's gun ownership, a desire to kill people, bizarre behavior, and disturbing social media posts. The FBI failed to follow appropriate protocol to assess the tip.
It was clear that Nicolas Cruz had issues – and everybody knew it. Yet, he was able to easily purchase a semi-automatic rifle, resulting in the tragedy that took 17 innocent lives.
In February 2017, President Trump signed a bill blocking Obama-era background checks on guns for people with mental illnesses. The Obama rule would have given the National Instant Criminal Background Check System (used for gun sales) access to Social Security Administration data including the names of individuals receiving certain federal mental health benefits, and it would have prevented an estimated 75,000 people with mental disorders from being able to purchase a firearm. Trump repealed this within the first 60 days of his administration.
Although it is not known if the Obama-era regulation would have prevented Nicolas Cruz from purchasing his rifle, many are pointing to this repeal as blame for many of the mass shootings that have happened over the last year.
"It shouldn't be that easy for someone to buy a semi-automatic weapon. We need to have background checks to make sure it is safe for people to be owning guns," said Pascack Hills junior, Lilah Ashtyani.
Many are saying that the solution isn't to regulate the sale of guns, because "guns don't kill people, people kill people." Individuals argue that if guns are taken away, someone who intends to kill people will find another way. However, you couldn't kill 17 people and injure dozens in 7 minutes with a knife; Nicolas Cruz needed an AR-15, semi-automatic gun to do that, just like Steven Paddock needed an AR-15 to kill 58 people and injure more than 500 in under ten minutes in the Las Vegas shooting in October, 2017. This kind of mass killing could not be done with any other kind of weapon, with exceptions to a grenade, but a grenade is not accessible, and cannot be purchased at a local shop. In fact, over half of all gun owners themselves support a ban on assault rifles, which were meant to be of military use, and not intended to be used by civilians.
Those who argue that it is their Second Amendment right to own any gun they desire fail to remember that the Second Amendment was written at a time when America was trying to escape the tyranny of Great Britain. In order to guarantee both militias and individuals would stand a chance against the British army, Americans were encouraged to own pistols and muskets. This is obviously not the case anymore – it has not been so for 200 years. As the state of the nation has evolved, our laws should follow.
Many have voiced concern that gun control should not be debated as of right now, out of respect for the victims and survivors of the Florida shooting; however, the young survivors have made it very clear that they do not want thoughts and prayers, they want policy and change. Subsequently, they are making sure their voices are heard through social media and news outlets.
At a rally held in Fort Lauderdale this past Sat. February 17, Marjory Stoneman Douglas students and politicians called for a ban on assault rifles in the United States. They urged their listeners to vote out lawmakers against the ban and those who take money from the National Rifle Association (NRA). This is the first mass shooting after which the victims themselves are speaking out and begging lawmakers to take action.
David Hogg and Emma Gonzalez, both seniors at MSD High School have been across news outlets making their opinions known. They are calling on politicians to take action in order to protect the young students of America, and they are voicing their anger at the government's refusal to make changes in the gun control policies of the United States.  
In her speech at the gun control rally in Fort Lauderdale, Gonzalez stated, "In Florida, to buy a gun you do not need a permit, you do not need a gun license, and once you buy it you do not need to register it. You do not need a permit to carry a concealed rifle or shotgun… I read something very powerful to me today. It was from the point of view of a teacher. And I quote: When adults tell me I have the right to own a gun, all I can hear is my right to own a gun outweighs your student's right to live. All I hear is mine, mine, mine, mine."
Student organizers from MSD High School announced on Sunday, February 19, that they will be a leading a nationwide demonstration on March 24 called the "March For Our Lives." Students will march on Washington, DC, and across the country demanding common sense gun laws to be put in place. The representatives from Parkland are determined to make this shooting a turning point in the gun control debate. They say they will be begging for their lives as they march and targeting politicians who receive money from the NRA. At this point "you are either with us or against us."
This march is vitally important to the debate on gun control – students are literally begging to be protected at school, a place that should be a safe environment for students and staff. It should be no question that human lives, especially those of children, are more important than one's mere desire to own a gun. Change is needed to prevent tragedies such as the Florida shooting from happening again. We cannot stand idly by as students all over the country are being threatened by people, people who have attained guns not to protect themselves, but to hurt others.
Hopefully, seeing as the students themselves are taking action, this will be the turning point in the gun control debate. It comes down to the simple fact – guns have no place at a school, guns have no place held up to a student's head, and most importantly, guns have no place in dictating the life and future of our generation.