Hills' Students 'Split' on Mental Health Assembly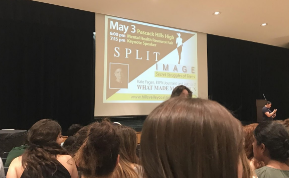 With the recent spike of teenage suicide rates throughout the United States, Pascack Valley High School District decided that it would be in students' best interests to bring in a guest speaker to touch upon the topic. On Thurs. May 3, author and journalist, Kate Fagan, visited both Valley and Hills to share her experience with teenage suicide through research for her book, What Made Maddy Run.
Originally a sports journalists covering the 76ers in Philadelphia, Fagan first heard of Maddy's story when she was asked to write a piece on the recently deceased college athlete for ESPN. As she unexpectedly received feedback from numerous readers, a bulk of those high school and college students, Fagan decided to study Maddy's life extensively to try and understand what pushed "the model student who seemed perfect on the outside" to take her own life.
Through interviews and thorough first-hand investigation, What Made Maddy Run tells the true story of an overachieving college athlete, who pursued track and field at the University of Pennsylvania, despite her obvious preference of playing soccer at Lehigh University. With the pressure of transferring from high school to college, with the pressure of succeeding in every venture, Maddy unfortunately ended her life during her first year at UPenn.
Mental health has been a topic that is widely discussed, yet in a tentative way. In the past 10 years, suicide rates for teenage girls (ages 15-19) doubled, while suicide rates for teenage boys (ages 15-19) increased by 30%. In a CDC report, it was found that suicides for the US population as a whole increased 24% over a 15 year period. While teenage suicides are on the rise, the stigma around the taboo subject of "suicide" continues to prevent students from asking for help, leaving many with mental illnesses untreated.
Dan Reidenberg, executive director of the Suicide Awareness Voices of Education, states, "We need to make it okay to talk about things that are causing emotional pain and let people know that it is real." Reidenberg mentions that heavy social media use, bullying, economic burdens, family issues and exposure to violence can all be factors to the development of mental illnesses, such as depression and anxiety.
As Fagan does speak of the issues mentioned above – social media angst, overachieving mentality, ignored cries of help – in her presentation titled "Split Image," several students found the assembly topical. Rather than bury the topic that many seem to want to avoid, Fagan used her platform to spread awareness of the dangerous trends she noticed when studying Maddy's life, and emphasized that mental illness should not be something teenagers are ashamed about. In addition, she talks about a transition that many in the audience could relate to: the transition from high school to college.
Junior Carly Haberfield says, "Although Fagan was not a therapist or someone who had a direct connection with Maddy, I think she brought up an interesting perspective on the topic of teenage suicide. For the climate that we're in today, I think it's such a timely topic."
However, various students found the assembly to be one-sided on the topic, criticizing that a bulk of the presentation applied solely to those who were student athletes, not the student body as a whole. Due to the fact that Maddy was a track star and the speaker herself was a past Division I basketball player, the presentation had a more direct connection with athletes.
As one of the students that felt as though she could not connect to the assembly, Rebecca Litvinsky states, "It was an important topic to discuss but I think she messed up this chance to reach a large audience when she only talked about herself and how difficult being an athlete is. As someone who doesn't play sports, I am still ridiculously stressed."
On the flip side, other students felt the assembly hit too close to home. As a senior who will be attending college next year for track and field, Oliva Uribe noted that her and her friends, who were also college athletes, felt targeted and uncomfortable when sitting in the audience. Although she admits the transition from one school to another is challenging, she reflects on her own admission process and "doesn't think the presentation was accurate in portraying student athletes."
And yet, some students had a completely different perspective with the assembly itself; they felt as though it didn't help enough.
"Yes, it was informational, but I would rather someone who either treats depression or someone who can personally relate to come talk to us. They would be closer to the subject," states Hills student, Lauren Losak, who wants to pursue psychology in college. "She should have given more tips on how the administration and school could help students with mental illnesses."
Other students, like junior Sara Bressler, wished the assembly would "give us more helpful solutions to deal with the problem."
As the topic of mental health is still controversial and at the same time, a topic that seems to come up in the news more and more often, having an assembly purely dedicated to the issue of teenage suicide is commendable on behalf of the administration. Although one assembly is not enough to change the stigma surrounding mental health, nor can it satisfy each and every student in the audience, the notion for positive change will hopefully cause a chain reaction and bring the disgraced topic to light.
Students clamor for a definitive solution to the increase of teenage suicide and this is the start of it – to break down the negative stereotype, and properly educate children and families on the stark reality that mental health affects us all.