How Snapchat Messed Up: Why Instagram Will Prosper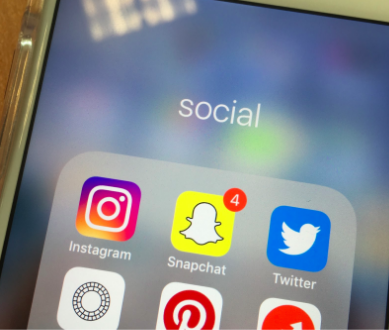 Kaia Paulsen
October 25, 2018
The most common stereotype of the youngest generation – now dubbed "iGen" by Jean M. Twenge, PhD – is their addiction to apps like Snapchat. It is true: modern day teens love to exchange funny pictures with their friends, hoping to one day achieve an impressive "streak". So, it is no surprise that these teens noticed when Snapchat added a huge update to the app, reconfiguring the entire design.
There is a constant pressure on the designers of platforms like Snapchat to constantly innovate their app. The goal is, of course, to make the site much more fun and simple to use. Snapchat's updates have often been applauded. For example, they saw a huge increase in engagement when they added cute face filters, an innovative way to group chat, and their most game-changing update, streaks.
However, the most recent update has had the opposite effect. Teens find it more complicated to use, and, as a result, the engagement on the app has gone down. Snapchat was once a very simple app to use. You would swipe left to see your friend's stories and right to see their chats. The new update changed all of that. By swiping right, you could see both your friends' stories as well as their chat; but, upon swiping left, there's a combination of stories and ads. In fact, the update was so bad that it attracted the attention of Kylie Jenner, who tweeted, "Sooo does anyone else not open Snapchat anymore? Or is it just me… ugh this is so sad."
She was not alone in her sentiments. At the same time, Snapchat had lost $1.3 billion in stock. TechCrunch reports that the redesign was bashed in 83% of user reviews. The new update earned almost exclusively mean headlines, such as "Nobody seems to like the update to Snapchat" from USA Today and "The kids are right: Snapchat's update is bad" from TechnoBuffalo.
What will be the outcome of this? Will teens finally stop "snapchatting"? Will they finally put their phones down?
The likely answer is no. As Snapchat continues to worsen, Instagram only uses that room to adapt. Shortly after Snapchat released its' new update, Instagram released one of its' own. Instagram now includes stories, very similar to the Snapchat feature. In fact, now you can even send individual friends disappearing pictures of yourself on Instagram, much like on Snapchat.
While Snapchat becomes weaker, Instagram continues to flourish. As of September 2018, Snapchat still only has a two star rating on iTunes, compared to the five star rating of Instagram.  
This new update on Snapchat is not the only thing that ranks it below Instagram; many parents are hesitant about downloading the messaging app because of the false security disappearing pictures has.  
In the long run, Instagram will continue to prosper over Snapchat because of its flexibility. While Snapchat's stock took an unredeemable dive after an update, Instagram continued to better itself. While the screenagers of today will continue to obsess over their phones, the app that they will likely favor will be Instagram.
"I find myself going on Instagram more than Snapchat every day," said Pascack Hills junior Jolie Newman. "I find that Instagram is easy to use and it's more fun and interesting than Snapchat. I think that after the horrible update, more people will realize that Instagram is better and decide to spend more time on Instagram than Snapchat."