The Macy's Thanksgiving Parade Over The Years
Editor's note: The following is an opinion article. The opinions presented are the writer's own and are not representative of the Trailblazer newspaper staff or Pascack Hills High School.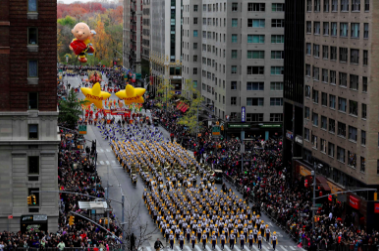 A tradition that goes back all the way to 1924, the Macy's Thanksgiving Day Parade occurs every year on the fourth Thursday of November. On the morning of Thanksgiving in Manhattan there is a parade filled with floats, professional bands, and live animals from the Central Park Zoo. During this three hour televised special, people find a nice cozy spot with their family to watch the parade floats go by.
This day is meant to be for all ages, yet as the new century begins to creep up on our generation, some people are beginning to grow tired of this tradition.
Sophomore John Duffy added, "The Macy's Day Parade does not sound that bad, but I'd rather eat all day on Thanksgiving." Duffy continued to explain how he thinks the parade is said to be better than it is. He sighed and says "slightly overrated."
Many people have parents and grandparents that were around when the Thanksgiving Parade was first growing in popularity. As a result, they have grown up loving the tradition and have continued to pass it down to their kids.
Sophomore Caity Parkes said, "My parents always love the Macy's Thanksgiving Parade. It is a tradition that is nice to have." She continues to explain that since it is a tradition that can not be considered overrated.
Even though some people like to experience the parade in person, discomforting weather stops many viewers from going.
Sophomore, Jun Hong, says "I have watched the parade every Thanksgiving ever since I remember, yet I only went in person once. I left early because it was so cold. It is much better to watch it on the television."
As the tradition continues, some may think that the tradition is subsiding. This is because younger kids do not watch it on TV anymore and the older generations that were around when it started do not want to go without their family in the freezing cold. About 50 million stay home and watch the parade rather than going to watch it.
In years from now there will not be as many people attending the Parade. 68% of people go shopping on Thanksgiving and 89% of people visit family, leading not much time to go out and watch the parade in person. There are too many other options to do on Thanksgiving, that the Macy's Thanksgiving Parade is not everyone's priority.