The Case Against Joe Biden for President
Editor's note: The following is an opinion article. The opinions presented are the writer's own and are not representative of the Trailblazer newspaper staff or Pascack Hills High School.
[Disclaimer: The views expressed in this piece are no longer shared by its author.]
Joe Biden may be the most viable candidate to defeat President Trump in November 2020, but that doesn't mean he's the most viable candidate to better America.
At the crack of dawn on April 25, Biden officially launched his campaign for president of the United States, ending months of his own hesitation and speculation by the media. In a three-minute video, the former vice president outlined why he is the Democratic candidate best positioned to make Trump a one-term president. Biden said that, upon the president's response to white supremacist riots in Virginia, he knew "the threat to this nation was unlike any other" he had seen in his lifetime.
"The video gave me goosebumps," Sophomore Stephen Schmidt commented.
It was, indeed, a well-executed video that played directly into Democrats' grievances about the president. However, it also echoed a message similar in part to Hillary Clinton's in 2016: Trump is bad, and I'm not him, so vote for me.  
With the election still over a year and a half away, Biden's message could definitely evolve into something that stretches beyonds the constraints of Trump's utter demoralization of the presidency. But by centering himself as the anti-Trump in his very first campaign video, Biden is strategically putting the 45th president at the center of his entire campaign. Portraying Trump as dangerous is exactly what Hillary Clinton did in 2016. And unlike Clinton, Biden has two years of Trump's tumultuous tenure to back up that depiction. It may not work.
Voters already know Trump is bad –– 64 percent believe he committed crimes before becoming president, and 55 percent disapprove of his job as president according to a recent Quinnipiac poll. These numbers are much lower among Republicans.
Therefore, Joe Biden's message, while satisfying the Democrats' thirst (mine included) for someone to oust Trump, may fail to reach voters more concerned about their own job than the current president's. As much as the 2018 midterm elections were a referendum on the Trump presidency, candidates more often campaigned on kitchen table issues like healthcare, immigration, the economy, and gun violence prevention. This voter-focused message is what won the Democrats back the House, and it just as well might win them back the presidency.
So far, Biden does not have nor reflect this message. Unlike many 2018 midterm candidates and diverging from his 2020 competitors, Biden's message is not something that could be applied in thirty years, when Trump will hopefully be a thing of the past. This could be because Biden won't be alive to see the lasting impact of his actions as president.
The problem with candidates invoking a return to the past, like Biden's favorable connotations with President Obama or Trump's pie in the sky to Make America Great Again, is that voters across the political spectrum want more than the status quo. They want more than the existing state of affairs. America can't go back to the past, nor can it stay as is. America can make a better future.
Voters' desire to "burn the house down" on politicians wearing rose-colored glasses led to Trump's election, and for different reasons has fueled the rise of Senator Bernie Sanders as an anti-establishment presidential candidate. Biden will weaken his appeal by emanating a nostalgia for the past instead of a hope for the future. If he wants to expand on Obama's legacy, hope must be a pillar of his campaign.
Unfortunately, Biden's ability to do that is hampered by his extensive career. He has been in politics for as long as many Pascack Hills parents have been alive. Every vote the former Delaware senator has taken, from opposing the desegregation of schools to favoring the war in Iraq, is a matter of public record. That includes Biden's treatment of Anita Hill when she testified against Supreme Court nominee Clarence Thomas in 1991, alleging sexual harassment before a panel of male senators. There's a lot more to be picked apart than for younger candidates like Mayor Pete Buttigieg. This could make it harder for Biden to unite a Democratic party divided among its centrist, progressive, and liberal wings.
His history also brings into question his age. Joe Biden is intelligent, well-intended, and competent. Joe Biden has dealt with momentous grief –– losing his wife and daughter in a car crash and his son by brain cancer. But Joe Biden is 76 years old, and he may not have the "wokeness" or fresh approach that younger voters are looking for to turn the tide.
"I want someone younger," Sophomore Caity Parkes said, "or at least someone who understands young people."
Ms. Parkes is in agreement with 80 percent of Americans ages 15 to 34 who say leaders from their generation would do a better job running the country (Associated Press). Sure enough, Biden has just 22 percent support among Democrats ages 18 to 29 compared to 42 percent support among Democrats 65 and older (Morning Consult). These numbers could be even lower if you consider Biden's name recognition compared to other candidates whom voters are less familiar with.
The 2020 Democratic presidential field is historic, and it does not lack the youth and diversity many voters are yearning for. The motley of 20-plus encompasses female, black, Latino, Asian, gay, and millennial candidates –– the latter three for the very first time. New Jersey's own Senator Cory Booker could be the first vegan to occupy the Oval Office.
As a whole, the field reflects the diversification of the electorate. A third of voters will be non-white by 2020, and just as many baby boomers will be voting as millenials. If elected officials ought to reflect the Americans they represent, it may not be the time for an older white man with a mediocre message and a risky record to go against Trump, even if he has the best chance of victory.
In the meantime, Biden is clearly the frontrunner –– he has topped dozens of polls, amassed an arsenal of endorsements, and raised over $6 million in the first day of his campaign.
"What our country needs is a moderate voice like his," Mr. Schmidt continued from earlier.
Over time, Biden could prove to be the remedy to a political climate that has pitted Democrats and Republicans against each other. But if he thinks he can steamroll his way to the White House only as the establishment anti-Trump, he's got a big storm coming.
Leave a Comment
More from the contributor(s):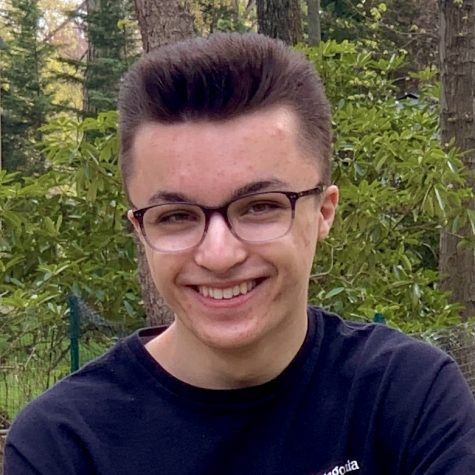 Jared Mitovich, Editor-in-Chief
Jared Mitovich joined the Trailblazer his freshman year as a staff writer. He has helped manage the Trailblazer's social media since his sophomore year, and in his junior year he edited the Opinion section. Now in his final year of high school, Mitovich is looking forward to working with Mackenzie Blowers as Editor-in-Chief along with the entire Trailblazer staff. You can follow him on Twitter at @jmitovich!

Fun fact: Mitovich once met a presidential candidate.