The unspoken side of Black Friday
There are better, more sustainable routes shoppers can take this season.
Consumerism on Black Friday
Black Friday is famously known as an American tradition of shopping splurges and massive discounts. It's a notoriously known day of pandemonium, as extensive crowds line up outside stores, restless to rush inside. This day is the epitome of consumer culture.
Some fans of the holiday will devote their entire weekend to ensuring that they catch the best deals. In fact, it's probable that the majority of the country will plan on at least making one purchase for this occasion. On the other hand, over the years people have learned from their mistakes and changed their ways. Yes, it is true that the prices will appear visibly lower than usual, but it's been proven that most of the time, your deal isn't as amazing as it seems. Nonetheless, this isn't always the case.
Not only are their intentions deceiving, but so are their impacts on the environment.
And on top of all this, aren't we still in a pandemic?
There are better, more sustainable routes shoppers can take this season.
Deceitful marketing tactics
70% of the time the sales mentioned by advertisements are not worth it. Large print vs. fine print, for example, is one of the most widely-used tactics in the economy.
Nine out of 10 participants in a survey of Pascack Hills students conducted by the Trailblazer agreed that stores often make their "deals" seem better than they're worth.
For example, signs posted on the walls and windows of American Eagle Outfitters might appear to say, "Shop 80% off!" Maybe you've been eyeing a pair of jeans, and in hopes of getting it on sale, you walk in. Yet, when you look closer, it actually says "Shop up to 80% off select items!" and the selection only includes old t-shirts and out-of-trend leggings. Nonetheless, you've walked in. Now you're bombarded with hundreds of other kinds of jeans, and you barely remember which one you were looking for. Now you see, "Limited time offer! Buy two tops, get one free!" Now you've been sucked into a rabbit hole, looking through the un-appealing sale section, trying to find two tops you somewhat like so you can get a third for free.
The golden rule of marketing is to get you hooked, so once you've walked in, or once you've clicked the ad, now you're susceptible to all their offers.
For example, if T.J. Maxx is having a "40% off home items" sale, you might walk in looking for a new rug. By the time you make your way to the rug section, you've likely seen 15 other sales and deals for things you don't even need. Even so, the rug you like might have a tag saying "$19.99" with the number "$38.99" crossed out. Many companies use this method to both advertise this item as more valuable than it is, and imply that you're getting a good deal.
Impact on the environment
Black Friday is one of the most detrimental traditions to America's waste, contributing to climate change and pollution.
According to an article on "The Pretty Planeteer", fast fashion is probably the worst contributor to the health of our planet. Fast fashion companies mass produce millions of products nobody buys and trick consumers into craving unattainable beauty standards. The amount of waste this produces is sending this planet downhill. Furthermore, almost all of these big-name brands have unethical ways of running things.
The top 10 fast-fashion contributors include Nike, Victoria's Secret, Zara, H&M, Fashion Nova, Forever 21, Pretty Little Thing, Mango, Shein, and Asos.
Without question, Amazon is the greatest online retailer in the world, and despite the fast-shipping and easy-to-use website, the plastic and cardboard waste is massive. Amazon offers 'limited packaging' options at checkout, so your pack of batteries doesn't come in an 11-by-11 box. They also offer "Amazon Smile," which is basically the same as Amazon, but the proceeds go to the shopper's choice of charity.
The best rule to go by when shopping consciously is to ask yourself if this company has a 'style', or if you can find this somewhere else, for better quality.
For example, many small businesses have a 'theme' to their products, which indicates that each one is created consciously and with purpose. Stores like Fashion Nova or Forever 21 offer endless varieties from endless sellers to the point where the only way you'd know it's from there is by checking the tag.
Why you should choose small businesses
Small businesses are truly the best option for shopping right now.
If a small business isn't centrally located in one's area, it's likely they'll resort to shopping online, which ensures safety from Covid-19. Due to everything going on in 2020, more than half of the U.S.'s small businesses have worked on creating virtual websites.
Adding on to Covid-19's impact, so many small businesses are currently struggling to maintain their customer flow. Of the one's still standing, choosing to buy from them truly could make all the difference.
As for morality, most small-businesses have ethical, sustainable causes. This includes mental health awareness, body positivity, reducing carbon emissions, vegan or cruelty-free products, or support for the homeless. Or if not, at least your purchase might make their day after all their hard work, unlike literally every other big company today.
Apart from small businesses, textile waste is an immense issue that's only worsened throughout the years. Unwanted and unpurchased clothes are now found piled in landfills, meanwhile millions of less fortunate are living off one shirt. Big-name brands such as Forever 21 are known for their mass production of endless designs, which sometimes aren't even bought.
Stay safe
Lastly, please remember, we are still in a pandemic. Just because people are wearing masks, at the very least, this doesn't mean going to Walmart on Friday is safe. Transfer of germs through contact is more than hazardous, especially when each retail store is centered around physical items. Rush to get in line or be in an aisle first is more than scary, especially when stores offer "limited time offers" or "limited stock." And coming home with all your mass-produced boxes that could've been who-knows-where is definitely something to be careful with.
So this Black Friday, please shop consciously.
Leave a Comment
More from the contributor(s):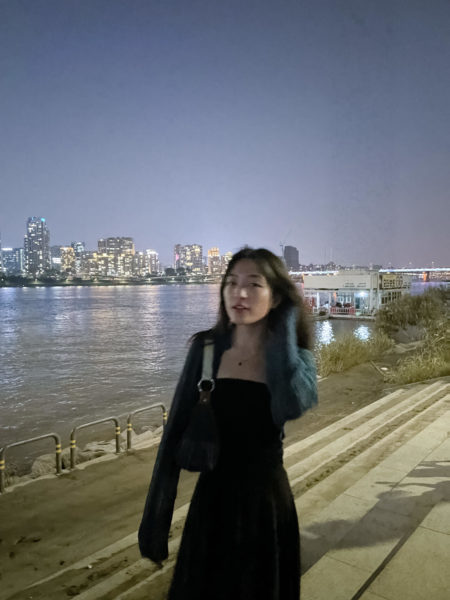 Julia Bang, Opinion Editor / Assistant In-Depth Editor
Hills senior Julia Bang is looking forward to being on the Trailblazer for her final year. She joined the publication her freshman year as a staff writer and edited for the Life & Style and In-Depth sections in her sophomore and junior years, respectively. This year, Bang is excited to create content and manage stories alongside the entire editorial staff.

Fun fact: Bang is a "cafe enthusiast."