Hills students voice thoughts on AP testing
"This year was even shorter and less involved than last year," Hills junior Sonia Balani said, "yet they are returning to full-length tests with minor changes."
The pandemic has influenced a variety of standardized tests over the past year including the SAT, ACT, midterms, finals, and more, and Advanced Placements tests are no exception. This year, some AP tests will be taken by students in person while others they will take from home. There are also other alterations that are affecting the majority of students who will be taking AP tests in the future.
Despite the fact that Pascack Hills and many other high schools are providing full-length tests this year, there are still many differences from how it used to be. This concept has cultivated a multitude of mixed opinions from students.
"This year was even shorter and less involved than last year," Hills junior Sonia Balani explained, "yet they are returning to full-length tests with minor changes to the curriculum that we have to learn by the time of the AP test."
"
This year was even shorter and less involved than last year, yet they are returning to full-length tests with minor changes to the curriculum.
— Sonia Balani, Hills junior
A lot of students have stated how AP tests are unfair because they're not taking into account the fact that this year was relatively limited educationally on what students were able to learn. Hybrid learning has hindered students from learning the necessary curriculum for various reasons, some being the distractions students experience in an at-home environment or the restrictions teachers are faced with while teaching through a screen.
"I think it is unfair to have a full-length test," Hills junior Riley Solomon said. "For example, for the AP US History test, they are including information that we simply did not have time to learn since we were in class significantly less than previous years."
Furthermore, the restrictions and guidelines they're enforcing on tests this year have been heavily criticized by students, especially in the English department.
"The digital exams are heavily proctored and controlled for 'anti-cheat,' which puts unrealistic guidelines on the tests, such as not being able to go back on questions," Balani stated. "The digital and in-person exams aren't remotely the same anymore, and that is unfair."
However, some students are a bit more torn on the subject when it comes to which tests will be taken virtually versus which will be taken at school. Certain AP tests such as Physics 1, Calculus AB and BC, and Chemistry will be taken in-person, while others such as English Literature and Psychology will be taken at home.
"I think AP testing this year will be more put together than last year, but I don't know if it would be fair or unfair," Hills senior Izzy Frangiosa commented. "I think that while it's good that certain tests like Calculus or Physics are in person because those subjects are hard to take off of the computer, if they were going to make some tests in person they should have made them all in person to prevent cheating."
When asked about what Hills students wished would be changed about AP testing this year, most of the responses were about shortening the information these tests cover, as it didn't seem fair to include content that teachers were able to get to.
"
College Board should have cut out some of the material on the tests for all APs.
— Erin McCarty, Hills junior
"College Board should have cut out some of the material on the tests for all APs," Hills junior Erin McCarty suggested. "They did this for Physics, and I still feel like we don't have enough time to review, even if class is still in a much better place."
"I'm not sure if this is the case, but I think maybe if the test content was made a bit easier since we are taking the full-length test, that could be beneficial to students who haven't really had the easiest year," Hills senior Maeve Rossig said.
Despite all of the challenges they're facing with testing this year, Hills students are still trying their best to get through exams, and there's hope that next year things will be slightly back to normal.
Leave a Comment
More from the contributor(s):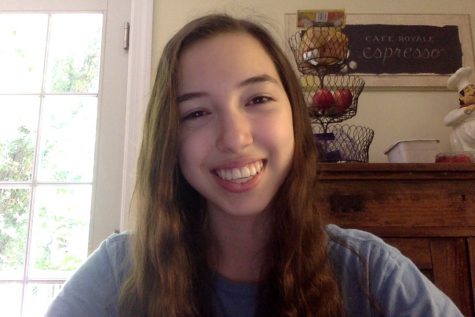 Darcy Bergstein, Arts and Entertainment Editor
Hills senior Darcy Bergstein is looking forward to her second year as a member of the Trailblazer. Before she became an Arts and Entertainment Editor, Bergstein wrote articles for the section as a staff writer. She is excited to edit for Arts and Entertainment alongside Kaitlyn Verde and write more articles in her final year at Hills.

Fun fact: Bergstein's favorite T.V. shows are "Breaking Bad" and "Mad Men."