Johnny Depp: A legacy reduced to a lawsuit?
One can hope this will not become the principal factor that will define Depp's name, but it will take a spot in the top three.
On April 12, the court trial between actors and ex-partners, Johnny Depp and Amber Heard, began, which started after both accused each other of domestic violence. Depp is suing Heard for defamation after she wrote an op-ed for the Washington Post that stated, "two years ago, [she] became a public figure representing domestic abuse" in reference to her divorce with Depp in 2016. Four days after filing for divorce, Heard obtained a restraining order against Depp, and stated that he physically abused her during their relationship, often under the influence of drugs or alcohol. 
During the trial when Depp testified, he described Heard as a "mercurial partner who sought to instigate fights," while Heard described Depp as a controlling husband who would pull out clumps of her hair, throw her on the ground, and head-butt her. Depp denied striking Heard or any other woman, and claimed that Heard's abuse would often start with demeaning name-calling that eventually escalated to physical abuse. 
"It could begin with a slap, it could begin with a shove, it could begin with throwing a T.V. remote at my head, throwing a glass of wine in my face," Depp stated. 
During one occurrence, the two had been in Australia for the filming of the fifth "Pirates of the Caribbean" movie. Depp described Heard to be upset after meeting with a lawyer regarding their postnuptial agreement and threw a handle of vodka at Depp, which shattered in his hand. The glass shards from the bottle injured his hand, specifically his middle finger. 
"The tip of my finger had been severed," Depp explained, "I was looking directly at my bone sticking out." 
"
I was looking directly at my bone sticking out.
— Johnny Depp, American actor
During Heard's testimony, however, she described the situation differently; she explained that Depp had been beating her after using the drug MDMA (commonly known as ecstasy), and that he had been upset at several issues such as the rumor of Heard having an affair with another actor. She described him as becoming "belligerent" and attacking her, and also claimed that he cut his finger while grabbing a phone off the wall and smashing it on the floor. 
Outside of the courtroom, thousands of people have been tuning in to the trial regularly. Many have been posting on social media platforms, such as Tik Tok, Instagram, and Snapchat about the events, causing multiple jokes and memes to surface. One example is of Amber Heard being nicknamed 'Amber Turd,' referring to an incident where Depp found fecal matter on his side of the bed after Heard went to Coachella in 2016. She denied doing it. 
"I don't know what grown woman [finds that funny]" Heard stated during the trial, "That's disgusting." 
"
I don't know what grown woman [finds that funny].
— Amber Heard, actress and ex-wife of Johnny Depp
After confronting Heard about the situation, Depp explained that she blamed it on the dogs, but he did not believe her. The hashtag, #amberturd, has been trending on multiple social media platforms with more than 1.2 billion views. 
Other jokes from the trial that have been trending online include Johnny Depp's mockery of Heard's lawyer and his word choice, specifically, when he stated that Depp had "poured himself a mega pint of wine." 
While Depp's ability to input comedic relief into the trial is admirable, the banter is a distraction from the weight of the situation. 
Depp is an A-list celebrity who starred in numerous films such as the "Pirates of the Caribbean" franchise, "Charlie and the Chocolate Factory," and "Alice in Wonderland." He is known by fans for his lightheartedness, and is adored by many fellow actors and directors who have accompanied him in his works. However, he will now be known for his court trial against Heard and the recipient of multiple people's pity. One can hope this will not become the principal factor that will define Depp's name, but it will take a spot in the top three. 
His career, which debuted in 1984 with his appearance in "21 Jump Street," will now be reduced to this month-long trial. All of his time and energy put into building his reputation for himself will be gone within mere weeks. His legacy, if not fully, belongs to the City courthouse in Fairfax County, Va. 
Nevertheless, Depp has never been known for simply one thing. He is after all a Jack (Sparrow) of all trades. If anyone can rebound from an event such as this and continue forward, stronger than ever, it is Johnny Depp. 
Leave a Comment
More from the contributor(s):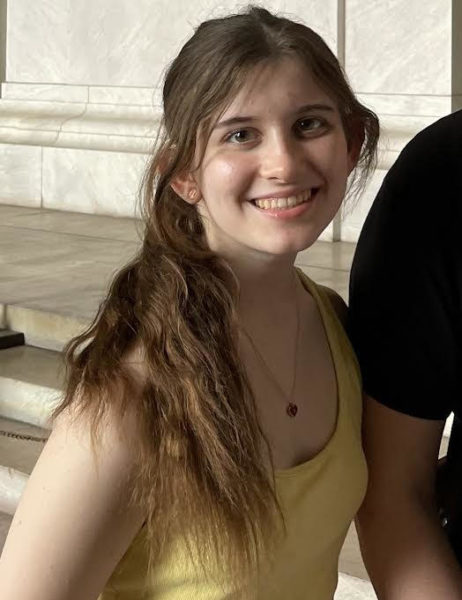 Rily Alexander, Life & Style Editor
Hills junior Rily Alexander is excited to be a part of the Trailblazer for another year. She joined the publication her freshman year as a staff writer and edited for the Arts & Entertainment section her sophomore year. This year, Alexander is looking forward to covering trending topics for the Life & Style section alongside Sammy Lazar.

Fun fact: Alexander enjoys learning new skills and is currently learning American Sign Language.