Dig Pink: Playing for a cure
Hang on for a minute...we're trying to find some more stories you might like.
A crowd of students, family, and faculty all clad in pink filled the Pascack Valley gymnasium on Monday October 30 for the annual Dig Pink Fundraiser. This event consists of volleyball games between the Pascack Hills and Pascack Valley teams in support of the Side Out Foundation.
The Side Out Foundation "teams with the volleyball community to inspire science and hope in the match against breast cancer." More information about this organization can be found here.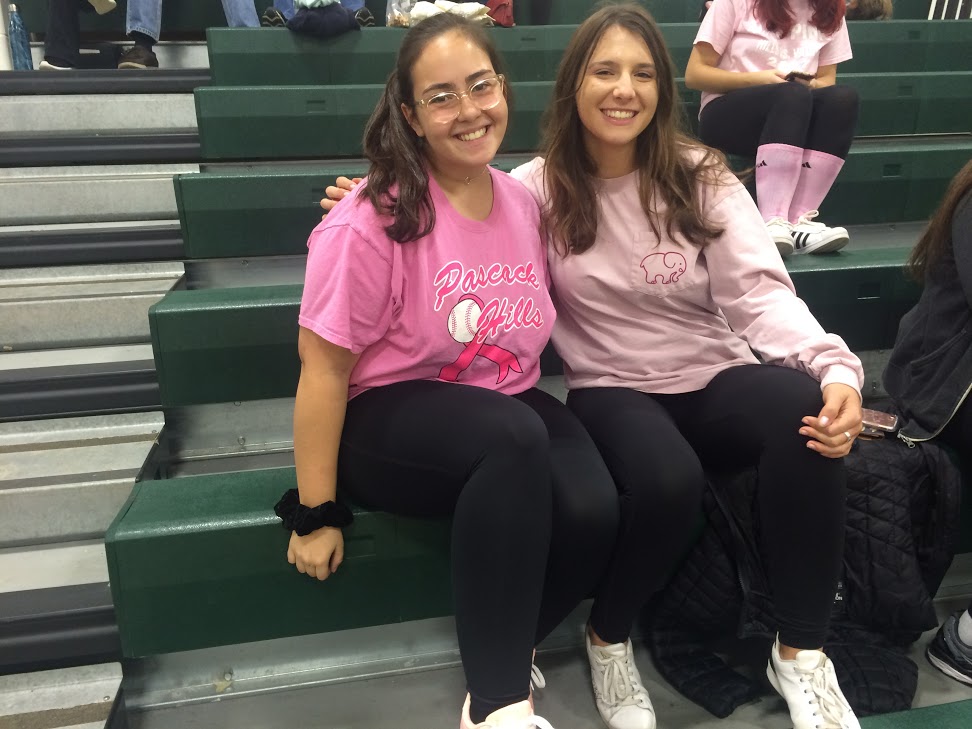 Seniors Julia LoBello (left) and Nicole Khanutin enjoying the game.
Junior Varsity played at 4:15 and Varsity played 5:30. The Hills freshman team lost to Valley, but both the Junior Varsity and Varsity teams won. The Varsity team won the first two sets, the first one with a score of 25-14, and the second one with a score of 25-16.
The Hills team scoring the winning point.
Varsity volleyball player and junior Maddie Valko said, "Playing in Dig Pink means a lot to my team and I. I believe my team and I go out there and have such an urge to raise money for breast cancer awareness. Win or lose, Dig Pink is amazing to be apart of!"
Junior Natalia Miniatis enjoyed attending the game because she feels that "volleyball doesn't receive as much support as they deserve."
Pascack Hills Varsity Coach, Lindsay Runge, said, "While we are proud for all of the accomplishments our team has made this year (and years in the past), this Dig Pink event is one of the most important accomplishments because of the meaning of the event. We are playing in honor of breast cancer research, and awareness. Shawn McDonald and parent Darryl Palmer worked to bring this event to the school 10 years ago, and it's been tradition since. The Pascack Hills girls volleyball team has worked to raise up to $44,000 for the Side Out Foundation in the past ten years. Darryl Palmer, who continued to be highly involved even when her daughters graduated, unfortunately lost her fight to breast cancer two years ago. We continue to honor her and those who have survived, continue to fight, or lost their fights to breast cancer."