Anthony Cieszko and Christian Piantino To Continue Baseball Careers in College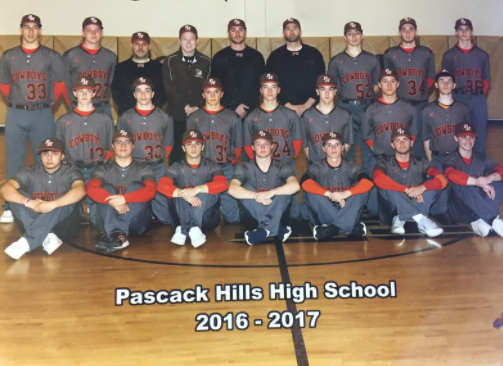 Although their time in orange and brown is coming to a close, seniors Christian Piantino and Anthony Cieszko will continue to play the sport they love for the next four years of their lives. Piantino will attend Trinity College in Hartford, Conn., while Cieszko will play at Salve Regina University in R.I.
Piantino has had an evident love and passion for the game, and the sport has piqued the interest of his family members. "My Grandfather loved baseball, and he passed that to my dad, who started me early. By the time I was 3 years old I was in the batting cages with a bat in my hand; ever since, it has become my passion and couldn't imagine life without baseball." As an outfielder and top pitcher, he has contributed to the team's fast start this season. Pascack Hills' varsity team currently sports 14-5 record.
He knew that he would end up playing baseball at the next level. "I want to play baseball for as long as I can. I couldn't imagine myself as a regular student. I need something to keep me busy and something that I enjoy."
Once he stepped foot on the campus, Piantino knew that Trinity was the best place for him. He knew that this college gave him the best chance to thrive academically, socially, and athletically.
"I loved the atmosphere of the campus. The coaches and players really made me believe I could make a huge jump in my game if I went there."
Piantino knows that he will have to commit to constantly improving his game, and he is determined to doing whatever possible to further his baseball career.
"Playing in college is like a full time job. I am going to have to spend my time wisely, and commit more to offseason weight training and other stuff. I am up for the battle ahead."
With a family full of avid Yankee fans, Cieszko's passion for baseball stemmed from watching greats like Derek Jeter and Alex Rodriguez.
He says, "As a kid, I dreamt of playing in the big leagues. I have always pushed myself to excel and prosper in this extremely competitive sport." As a four year varsity starter, Cieszko has always been one of the top players from the school during his time at Pascack Hills, and he is excited for the opportunity of playing at one of division three's best teams in the nation.
"I will try to push my teammates on the field and in the weight room."
Cieszko is enthusiastic about playing in college, and he is ready to face the challenge of playing better competition than ever before.
"The competition will be a big adjustment for me. I am going to playing with some fully grown men, which is a little intimidating to think about. This just means that I am going to have to work harder to compete with them." He also has expressed a desire to remain at shortstop, a position he believes puts him in the best position to succeed.
At Salve, Cieszko "wants to benefit the team as much as possible." Cieszko is appreciative for the opportunity to "get the best of both worlds by continuing the sport I love while getting a great education."
While both players are thrilled for the new roads ahead, Piantino and Cieszko are still focused on helping Pascack Hills' varsity team win as many games as possible. The pair both have a common goal – winning the state title.
Piantino said, "It is every athlete's goal to win a state title. I want our opponents to fear playing us. We should be looked at as a powerhouse program."
Cieszko also has high expectations for this year's team. At Salve Regina, he will be joined by Jake Cortazzo, who declined to comment. He believes they have the potential to do some damage in the state tournament.
He says "We have the ability to upset some of the bigger programs in the area. If we can do that, I think we can go on to win the state sectional title."
As much as both of them love playing for Coach Kevin Kirby and Pascack Hills, they have been given enough training and a wealth of knowledge that has helped them prepare for the adjustment to college. Cieszko said "Coach has told me to just relax and play the way the game is supposed to be played."
Many on the team are confident in the pair's ability to succeed at the next level. Sophomore second baseman Julian Bulzomi said, "They both work extremely hard day in and day out. As long as they continue to stay focused on baseball, they will succeed at the next level."