El Azteca's Hall of Fame Burrito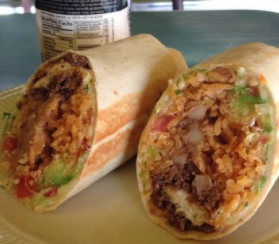 Zachary Solon
May 16, 2017
Located in a small strip mall in Park Ridge, N.J., El Azteca, a fine authentic Mexican restaurant, stands ready to provide the best south-of-the-border cuisine in the community. Upon entering the restaurant, the smell of seasoned chicken and beef fills the nose, and the Mexican music coming through the speakers brings a different sound to the ears. Once you order, take a seat and enjoy a complimentary batch of crunchy chips and superbly-spiced salsa.
El Azteca's steak burrito is above and beyond compared to those at other local places such as Blue Moon or Chipotle. The burrito, which is made by the chef, rather than a "make-your-own style," comes stuffed with steak, refried beans, pico de gallo, sour cream, and everything else that any burrito-lover could ask for. The burrito is so big that when it arrives to your table, it's already cut in half, and each half could suffice as a burrito on it's own.
While the restaurant is famous for its burritos, El Azteca also offers all kinds of Mexican cuisine ranging from delicious Guacamole to mouth-watering empanadas.
"Simply the best burrito you'll find in town. Better be hungry too. I've split the burrito into two meals plenty of times," says one Yelp user, who rated the restaurant five out of five stars.
For just about nine dollars, you can stop in for lunch or dinner at El Azteca and get a giant, tasty steak burrito. The restaurant, located at 91 Park Ave. in Park Ridge, is open 10:30 a.m.-9:30 p.m. Monday-Thursday, 10:30 a.m.-10 p.m. on Friday, 11 a.m.-10 p.m. on Saturday, and 11 a.m.-8 p.m. on Sunday. All in all, El Azteca takes the cake for the best steak burrito in Pascack Valley and, quite possibly, all of Bergen county.
To view a full menu and learn more about El Azteca, visit their website at http://www.elaztecaparkridge.com/index.html